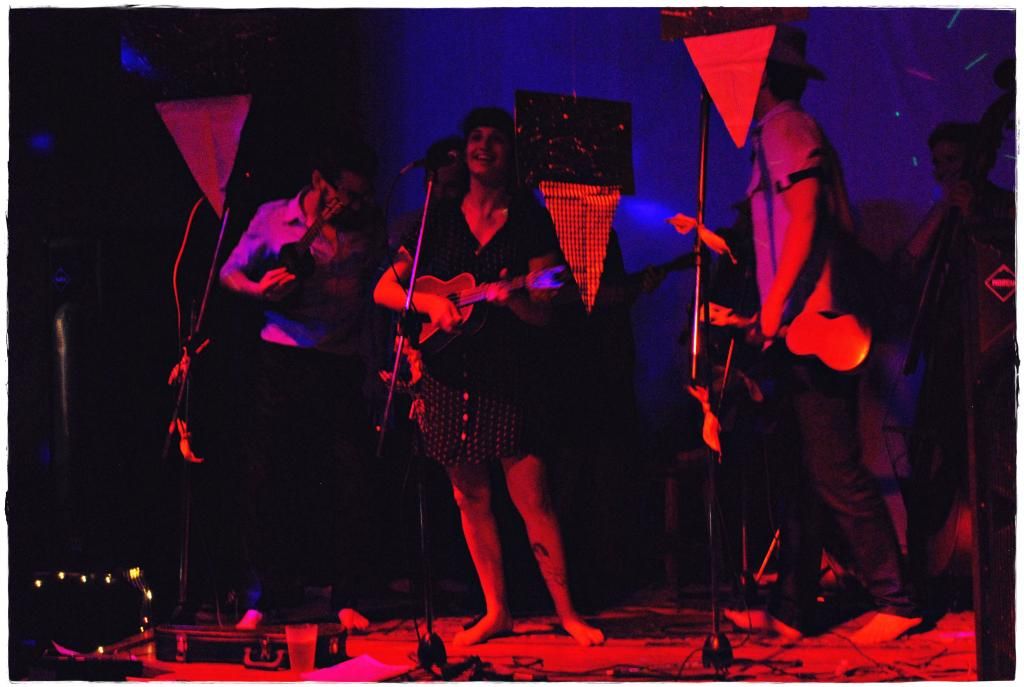 La Familia de Ukeleles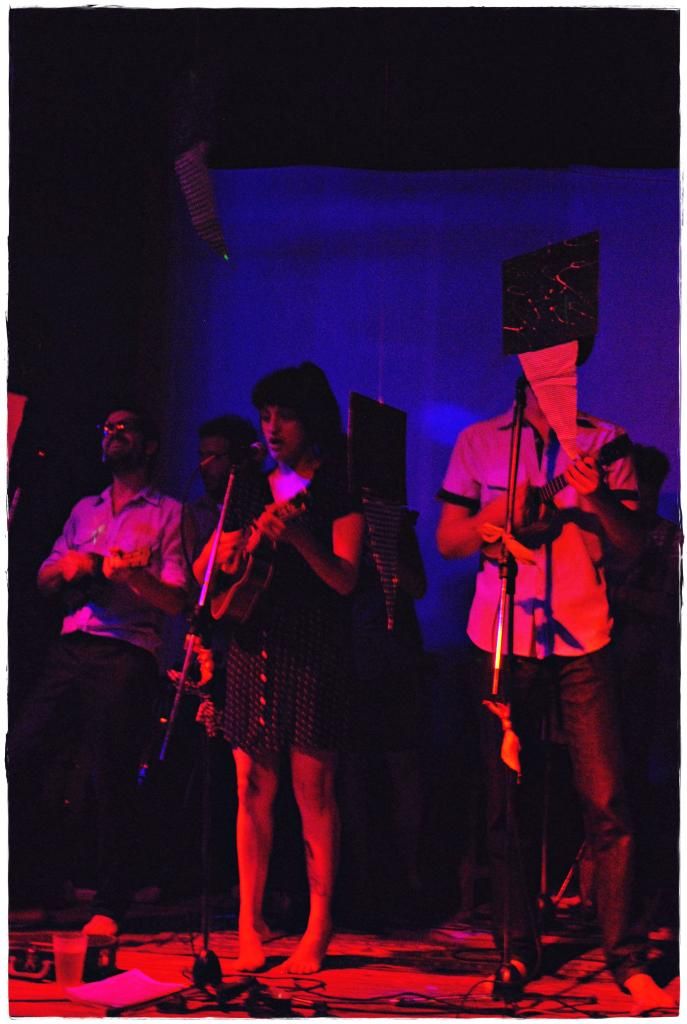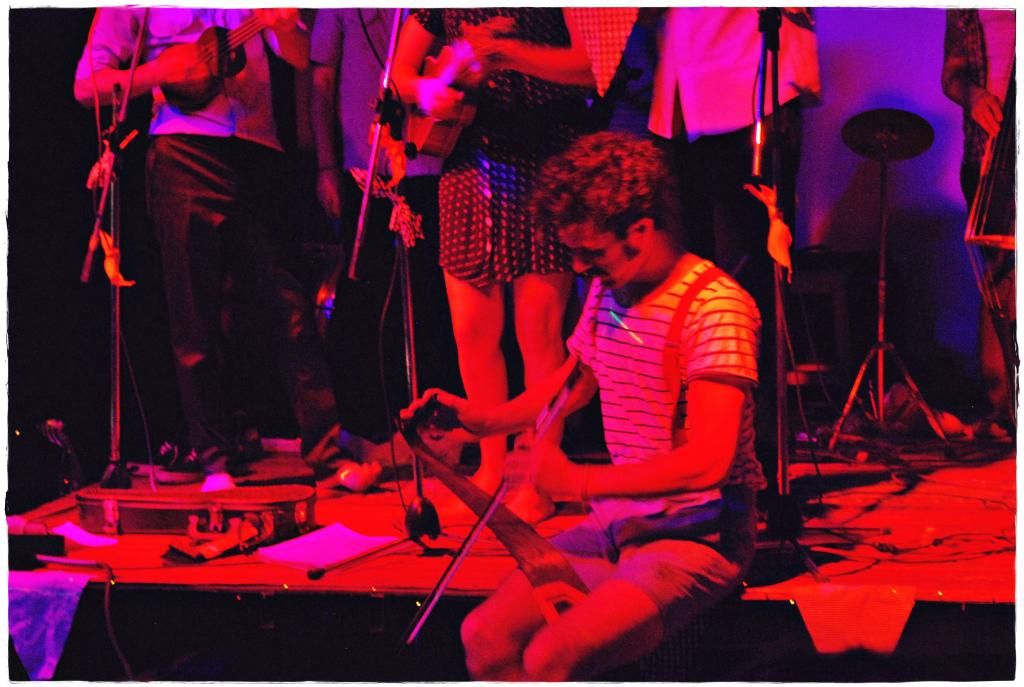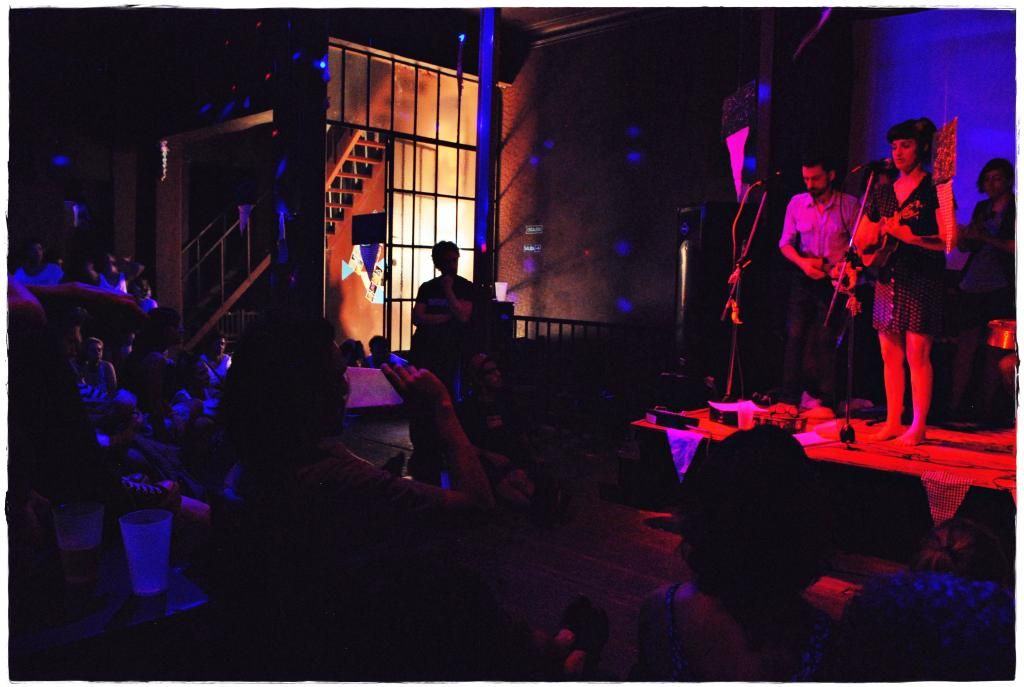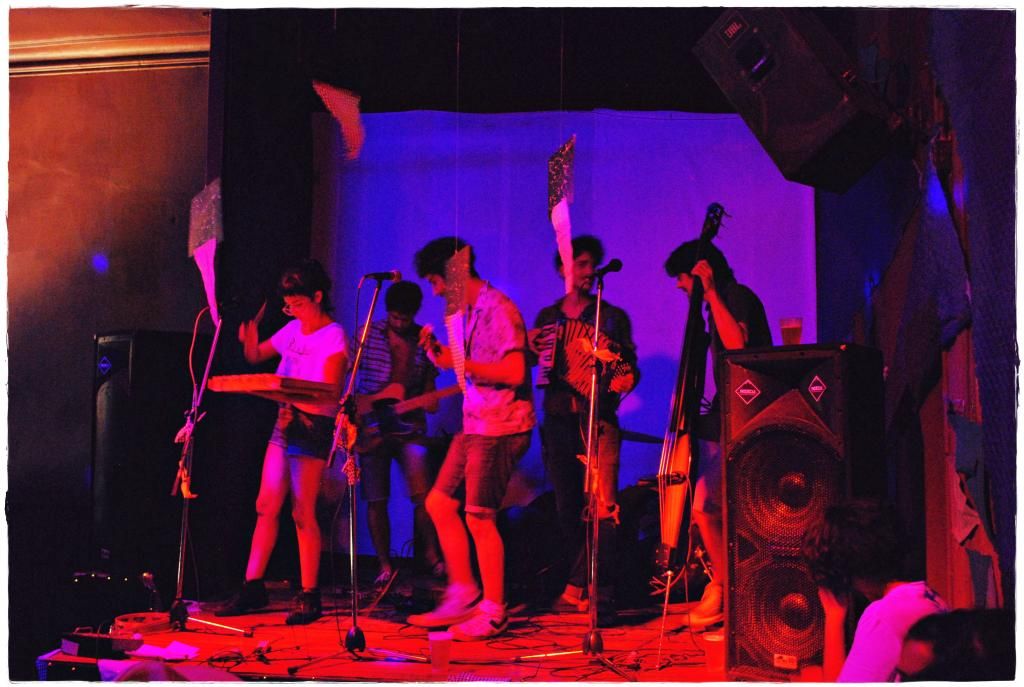 Pequeña Orquesta de Trovadores
El jueves de la semana pasada, dentro de la ola de calor infernal que arropaba Buenos Aires, mi roommate y yo emprendimos camino a un recital de la Orquestita que había en Abasto. Decidimos ir a pie, ya que la ciudad estaba hecha un quilombo por las protestas en contra del gobierno Argentino, después de todo no estábamos muy lejos y así podríamos al menos airearnos un poco.
Unas trece cuadras después, nos encontrábamos en un local que parecía bastante pequeño, con circulación de aire casi inexistente y bastante sofocante. La primera presentación tardó en llegar: un chico de La Plata haciendo un acústico con unas cosas quizás muy experimentales para mi gusto, pero bueno, hay que vivir y dejar vivir, ustedes saben.
La espera valió la pena cuando La Familia de Ukeleles tomó el escenario y con sus pies descalzos empezaron a hacernos bailar. La banda trabaja en acústico, versionando temas principalmente de los anos 50's y 60's, paseándose por artistas como Elvis, Buddy Holly, Patsy Cline, entre otros (hasta algunas canciones en francés nos dedicaron). Además, me sorprendieron con elementos bastante creativos como bolsas implementadas como instrumento y un serrucho transformado en una especie de violín. Muy lindo todo. Son una banda para escuchar en vivo, así que si tienen la oportunidad de asistir a alguno de sus recitales, están recomendados 100%. Pueden chequear la info en su página de facebook.
Les deseo un muy feliz lunes, si es que eso es posible - a nadie le gustan los lunes.
Last Thursday, in the middle of the awful heat wave that covered Buenos Aires, my roommate and I started our way to a concert where the
Orquestita
would be playing in
Abasto
. We decided to walk there, the city was in the middle of chaos – more than usual - due to some protests against the government and we weren't that far from the place, so we thought it would give us the chance to at least get some air on the way there.
About thirteen blocks later, we were at a place that seemed small, with little air circulation and a suffocating environment. The first performance took its time to start: a guy from La Plata playing some tunes that were perhaps a little too experimental for my taste, but well you know, you gotta live and let live.
The waiting was worthwhile as soon as
La Familia de Ukeleles
got on stage and with their bare feet got us dancing in a second. The band plays acoustically, singing songs of the 50's and 60's and covering Elvis, Buddy Holly, Patsy Cline to name a few (they even dedicated us a song in French). Besides, I was really surprised by their creativity incorporating different objects as musical instruments such as supermarket bags and a saw used as a pseudo-violin. It was all very lovely. They're a band to be seen live, so if you have the opportunity to go to one of their shows I highly recommend it. You can find more information on their
facebook page
.
I hope you all have a nice Monday, if that's possible - Mondays suck.
x
A.