Shirt: La Luna./ Skirt: Zara./ Tights: Forever 21./ Shoes: Ruben Cassin.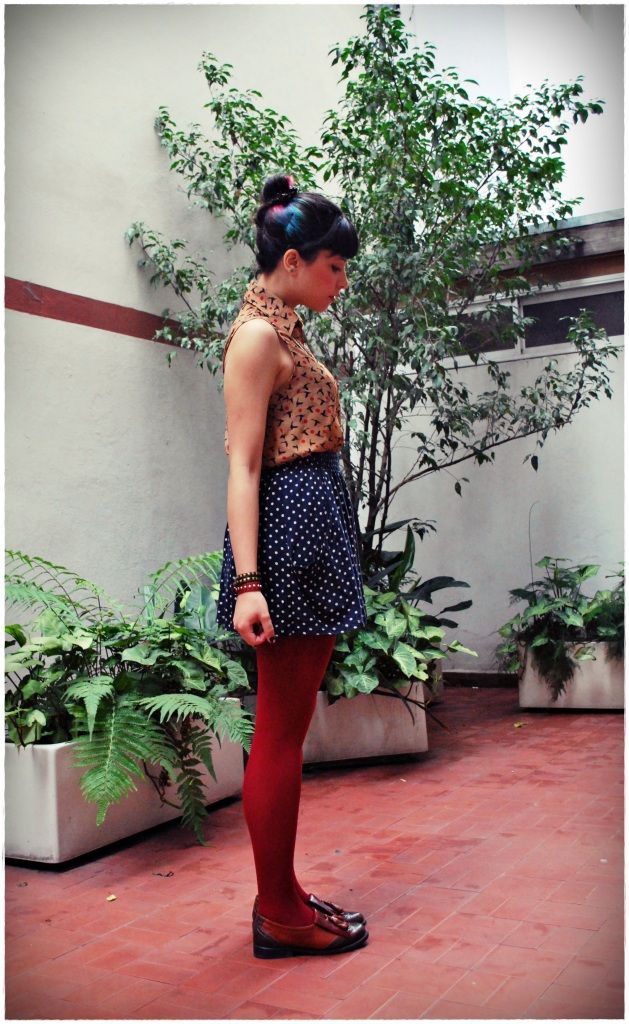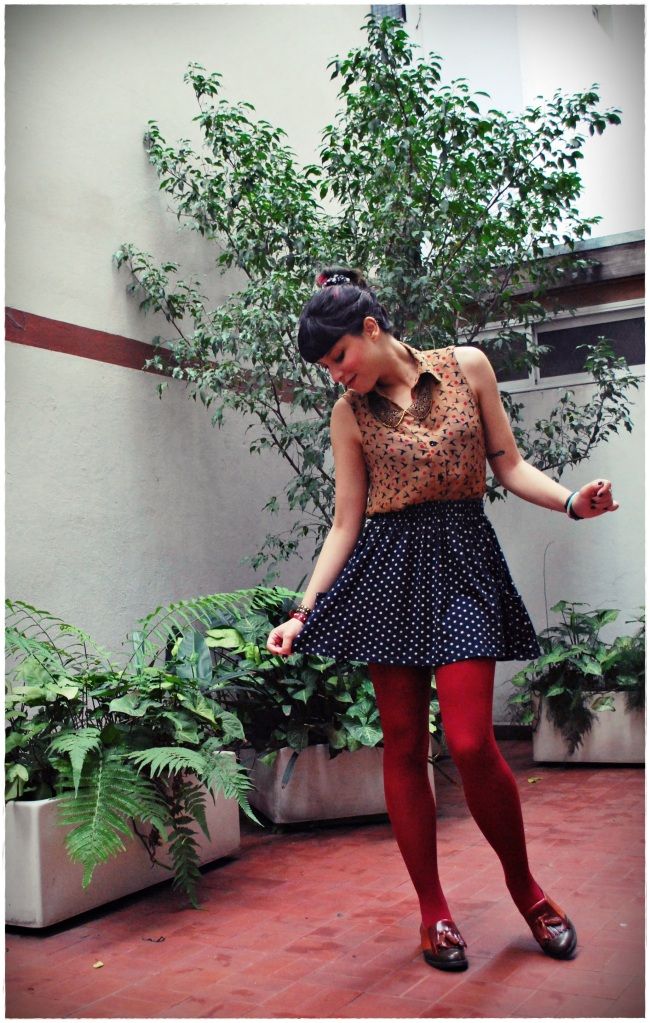 Creo que tenía tiempo sin postear dos veces la misma semana. Como les mencioné en otro post, me mudé hace un par de semanas, proceso que fue una locura, pero que logramos con éxito (y al mejor estilo de 2 broke girls).
Aprovecho entonces esta entrada para mostrarles parte de mi nuevo departamento, tiene un lindo patio donde podré tomar las fotos para el blog de ahora en adelante. El clima ha estado rarísimo y si la primavera es así acá, creo que no me está convenciendo mucho. Es un poco molesto porque hace sol y durante el día hace una temperatura agradable, pero en las noches hace un frío repentino horrible y hay demasiada brisa endemoniada. En fin. Todo esto se los cuento porque a la hora de vestirse hace todo un poco complicado, porque no dan ganas de salir abrigado, pero igual tienes que cargar un buen sweater si vas a estar fuera de tu casa todo el día. Además, llueve a lo loco.
#firstworldproblems
Esta camisa la compré hace tiempo en una tiendita cerca de mi antigua casa y ya la había usado varias veces, pero nunca la había mostrado en el blog, la amo. El resto del look tiene un aire un poco "colegial", me pareció que estaba bueno para variar un poco, algo así como jugar a disfrazarse.
Espero que les guste el post y que tengan un lindo fin de semana
J
I think it had been a while since I posted twice in a week (at least outfit posts), as I mentioned, I moved out a couple of weeks ago, it was a crazy process but we suceded (in a very 2 broke girls kind of way).
In this post I'll show you parts of the new apartment, it has a lovely patio where I'll be taking most of the pictures for the blog from now on. The weather has been berserk. It's sunny during the day, mostly nice but at nightfall the temperature drops like hell and there's an evil breeze that almost swipes you away. Anyhow. I'm telling you all these stuff because obviously it's very annoying to get dressed under those circumstances. You don't want to cover yourself much but you have to take a thick sweater with you if you have to stay outside for a long time. It also rains randomly. - #firstworldproblems
I got this blouse a while ago in a store near my old house and I had already worn it several times, but not for the blog, I love it. The rest of the look is a little preppy but I felt it was cool for a change, like playing dress up.
I hope you like this post and that you have a great weekend
J
x