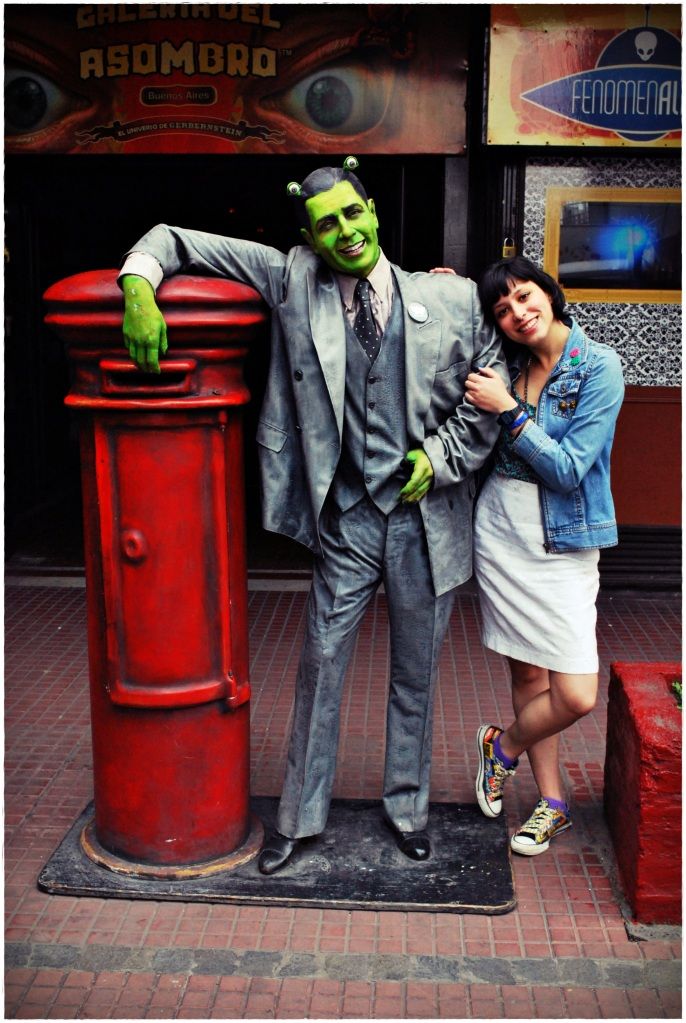 El Gardel alien es mi nuevo novio / Alien Gardel is my new boyfriend
El de la barba es Daniel / The bearded one is Daniel
El truco que nunca funcionó / The trick that never worked
Aquí les dejo las fotos del segundo día que mi amigo Daniel estuvo de visita. Aprovechando que era domingo, fuimos a la feria de San Telmo y, como siempre que se va a esa feria, presenciamos cosas bastante graciosas y particulares.
En cuanto al outfit, antes de vestirme no estaba muy segura de cómo se vería todo junto, pero al final me gustó y fue una combinación distinta a las cosas que suelo utilizar normalmente. La falda fue un regalo de mi amiga Alejandra, quien tiene una tienda online llamada RAC Vintage en la que vende prendas de segunda mano, las cuales selecciona, lava y repara previamente de ser necesario. Si están en Venezuela, les recomiendo que revisen su página de facebook, porque además los precios son muy accesibles y no sé cómo hace, pero siempre tiene cosas hermosas y en perfecto estado.
La chaqueta de jean también es de segunda mano y de hecho es de El Principito Kids, fue la única manera de conseguir una que me quedara bien.
Espero que les gusten las fotos y que tengan un lindo fin de semana
J
These pictures are from the second day that my friend Daniel was here. Since it was Sunday, we decided to go to the fair held in San Telmo and, as usual, we got to see some curious and hilarious stuff.
Regarding my outfit, I wasn't sure about this combination before I got dressed but I ended up liking the whole look, even though it was different from what I normally wear. The skirt was a present from my friend Alejandra, she has an online store named
RAC Vintage
and she sells vintage pieces that are selected, washed and repaired (if necessary) by her. If you are in Venezuela you should check out her facebook page, the clothes are really affordable and I don't know how she does it, but she always manages to find beautiful things and in perfect state.
The denim jacket is also from a thrift store, it's a kid's jacket, which was the only way to find one that fit me properly.
I hope you like the pictures and that you have a nice weekend
J
x
A.