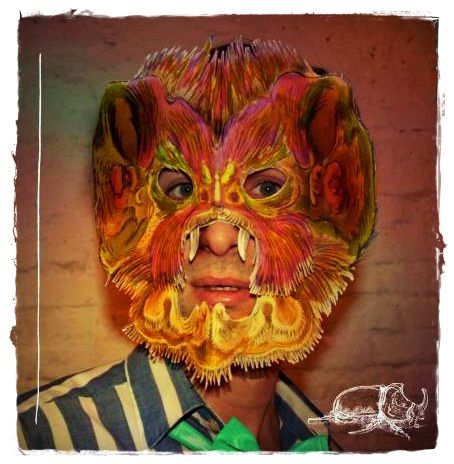 El Hipnotizador Romántico
Maximiliano García y Pablo de Caro no son nada ajenos a la escena musical de la Argentina. Este nuevo proyecto musical liderado por Maximiliano (a quien nos referiremos de ahora en adelante como "Gitano García"), acompañado por su banda "los Gitanos" nos pasea por melodías pintorescas y románticas, combinando ingeniosamente música indie, con folk y ritmos tropicales. Los que han seguido mis posts musicales, saben cuánto me encanta la música que alegra corazones, para mí este disco encaja perfectamente en esa categoría.
El sábado pasado tuve la suerte (literalmente suerte, porque me enteré del recital el mismo día en la mañana y por pura casualidad) de verlos en vivo en Café Vinilo (Buenos Aires) y además de tocarme el corazón, la presencia del grupo en el escenario me recordó un poco a ArcadeFire y Edward Sharpe and the Magnetic Zeros (dos de mis bandas favoritas en la vida). Les recomiendo ampliamente que escuchen el disco (AQUÍ) y si quieren visiten su página de facebook para enterarse de futuros eventos.
Les dejo algunas de las fotos que tomé y uno de los videos que grabé con mi celular, en mi canal de youtube hay un par de videos más y también hay más fotos en la página de facebook del blog.
Maximiliano García and Pablo de Caro are no strangers to Argentina's musical scene. This new project led by Maximiliano (to whom we'll refer as "Gitano Garcia" from now on), sided by his band "los Gitanos" (the gypsies) walks us through picturesque and romantic melodies, cleverly combining indie music with folk and tropical rhythms. For those of you who have followed my musical posts, you know how much I adore and appreciate music that warms up your heart and make you happy, this record fits perfectly into that category for me.
I was lucky enough (literally lucky, because I found out about the concert that same morning and almost by chance) to see them live last Saturday in
Café Vinilo,
in Buenos Aires and besides touching my heart, watching the band on stage reminded me a little of
Arcade Fire
and
Edward Sharpe and The Magnetic Zeros
(two of my favourite bands ever). I highly recommend you to listen to their record (
HERE
) and check out their
facebook page
for future presentations.
I'll leave you some of the pictures that I took and a video I recorded with my phone. There are a couple of extra videos on my youtube channel and more pictures on the
blog's facebookpage
.
Enjoy!
x