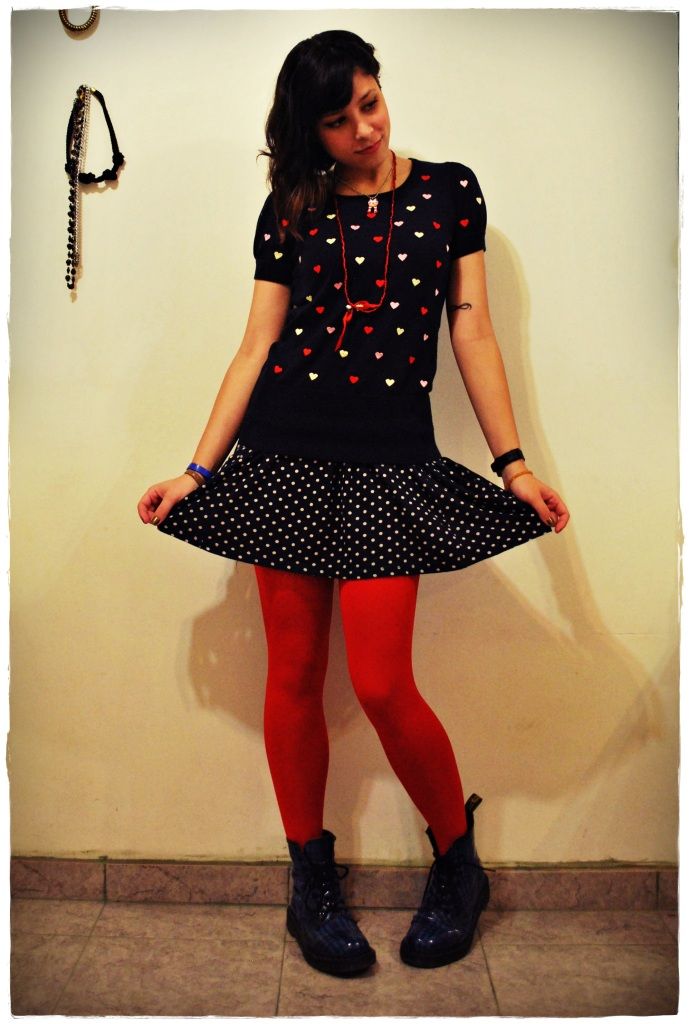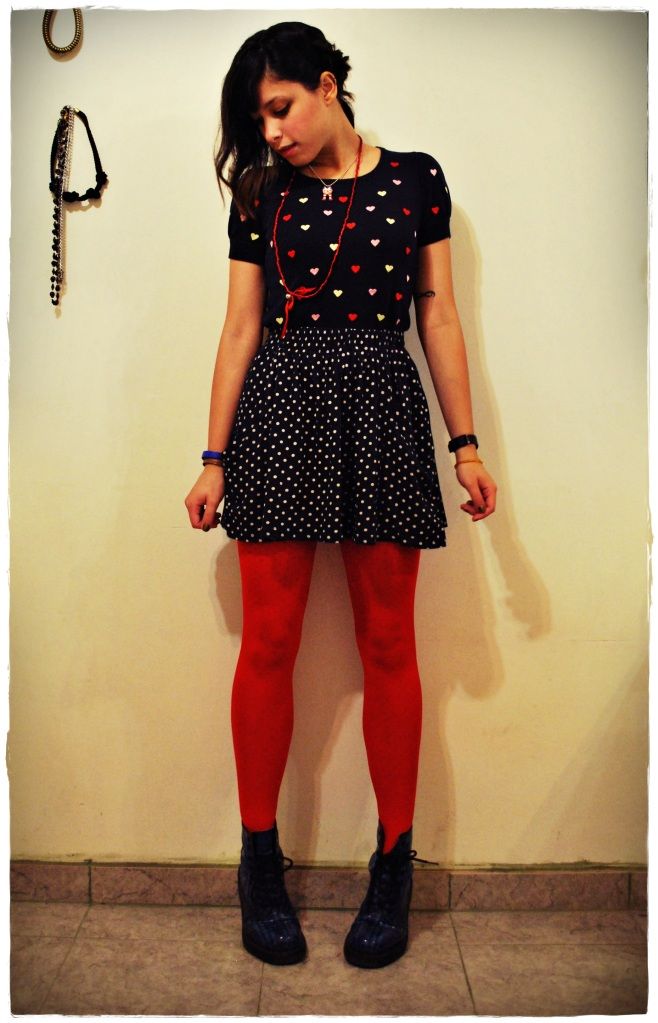 Colocar el sweater por dentro de la falda cambia totalmente el look/ Tucking the sweater in makes it look completely different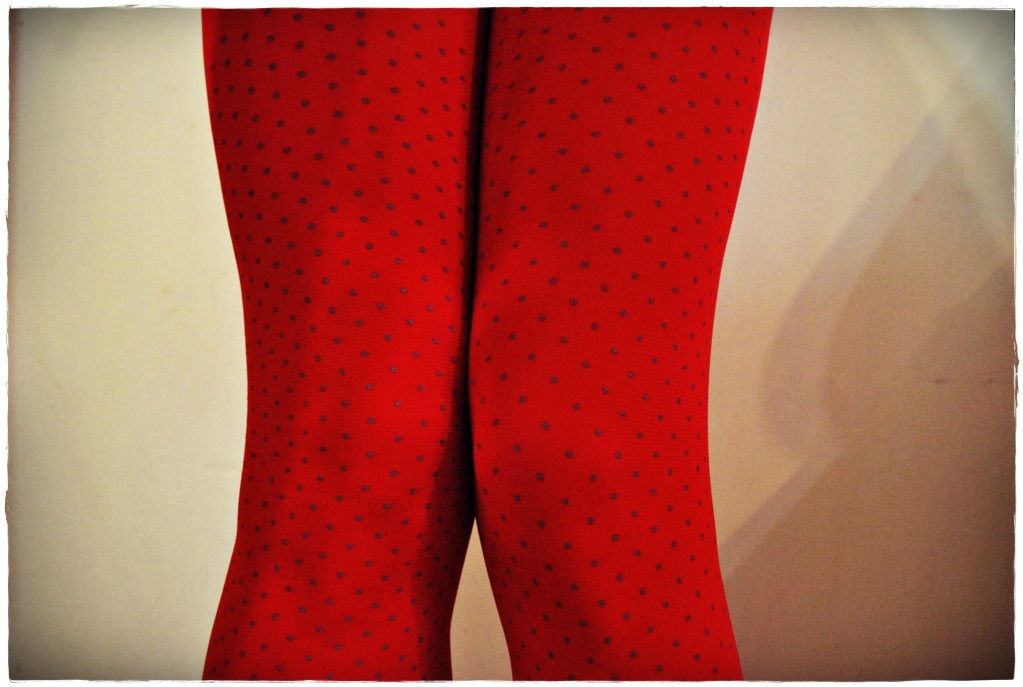 Polka dot tights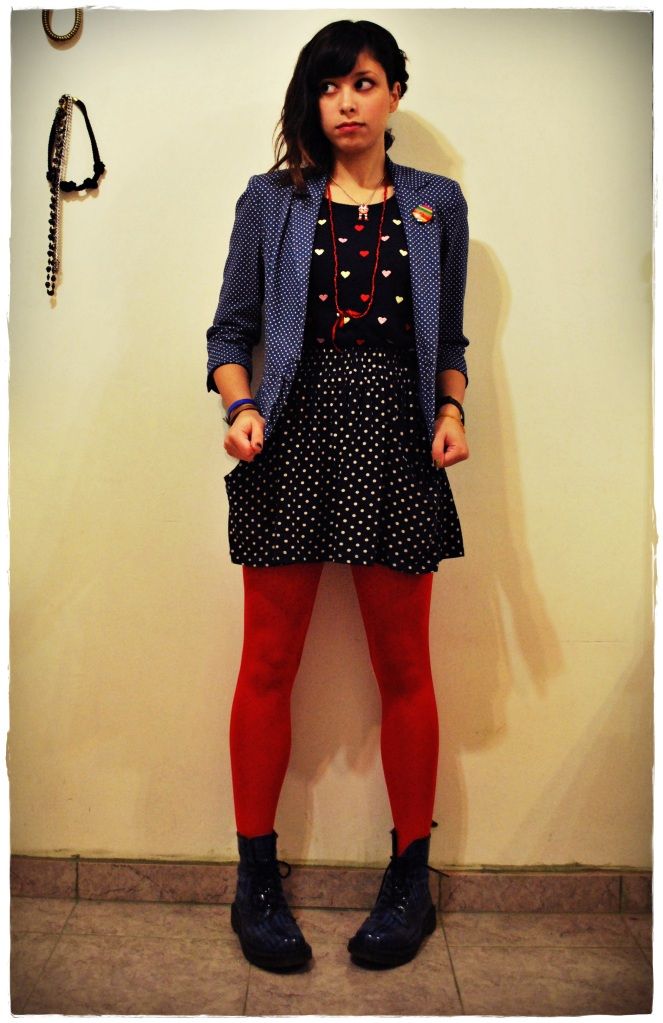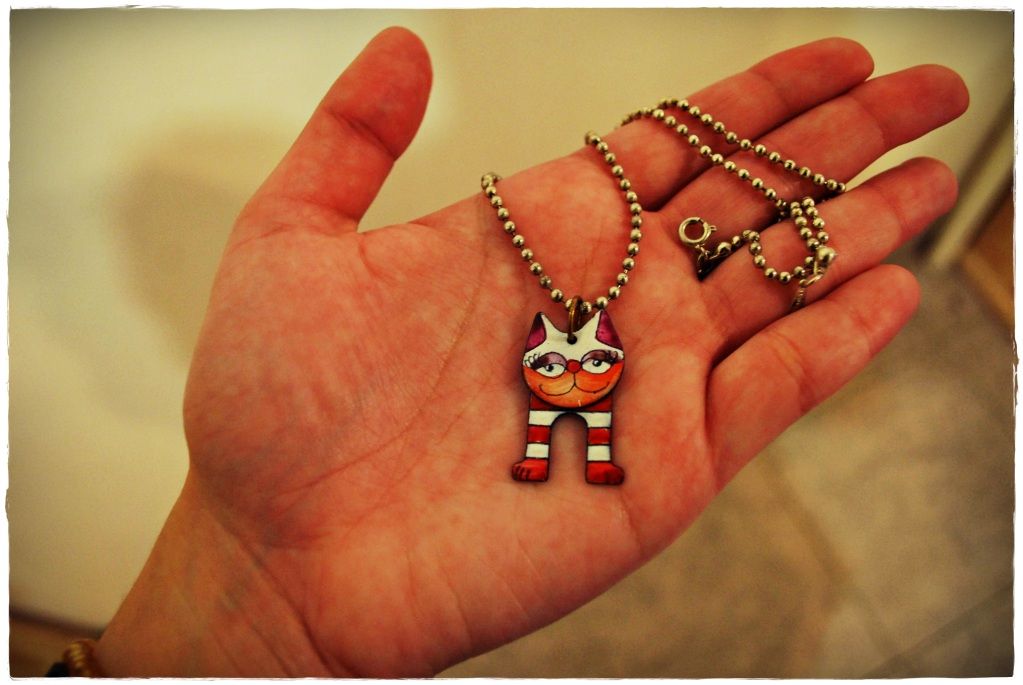 Colgante de gatuno hermoso de Praga / Lovely kitty pendant from Prague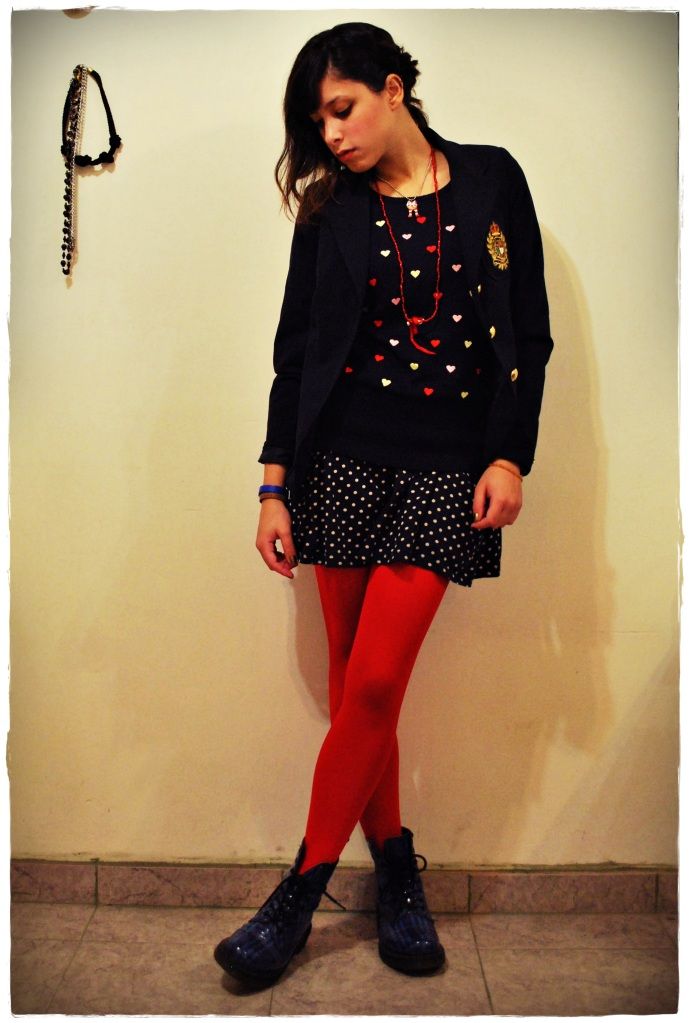 Sweater: Primark./ Skirt: Zara./ Tights: Naf Naf./ Boots: Dr. Martens./ Polka dot blazer: Blanco./ Blue blazer: Traki./ Red Necklace: DIY.
Definiría este outfit como "niña buena con un toque de rock" o algo por el estilo jajaja. De un tiempo para acá me encanta mezclar estampados y en esta combinación hay muchos detalles particulares en cada una de las prendas. Por una parte está el sweater de corazones, que es de Primark; también están los puntos/lunares en la falda de Zara y en las medias de Naf Naf (no se nota de lejos pero hay una foto con el detalle – las elegí rojas para añadir ese elemento resaltante que me gusta incluir en todos mis looks -) y por último el escocés de las Dr. Martens. Como pueden ver, son muchos elementos que no tienen nada que ver entre ellos, pero la idea es coordinarlos con una gama de colores que los unifique y haga que no se vean disonantes.
En el post anterior también coloqué dos maneras distintas de combinar un conjunto para que se vea diferente. Me gustó esta idea porque creo que todas(os) cuando nos estamos vistiendo solemos experimentar con prendas distintas antes de decidir finalmente cómo vamos a salir. En este caso es gracioso porque al final no salí con ninguno de los blazers, terminé utilizando otra chaqueta/campera con capucha/hoodie porque estaba lloviendo ese día, pero ya estaba apurada y no tuve tiempo de tomar las fotos.
Espero les guste el post.
I'd define this look as "good girl with an edge" or something like that haha. From a while ago I've really gotten into mixing prints and in this outfit you can appreciate a lot of particular elements in each one of the pieces. On one hand there's Primark's knitted heart sweater; we also have polka dots on the skirt (which is from Zara) and tights (you can't see them in the full body shots, that's why I included a photo of the detail – they're from Naf Naf and I wanted to add the red color to have that POP! That I like to incorporate in all my looks -) and on the other hand there's the tartan plaid from the Dr. Martens. As you can see, there's a lot going on with prints that have nothing to do with one another, however the idea is to make them coexist and look cohesive by playing with a pallet of color that merges them.
In my last post I also added a couple of combinations to wear a same outfit in different ways. I really liked this idea because I think that a lot of times we experiment with clothing before choosing what we'll wear to go out. In this case it's really funny because I actually ended up going out with another jacket that had a hoodie because it was raining that day but I was on a hurry, so I didn't have the time to take pictures.
I hope you like this post.