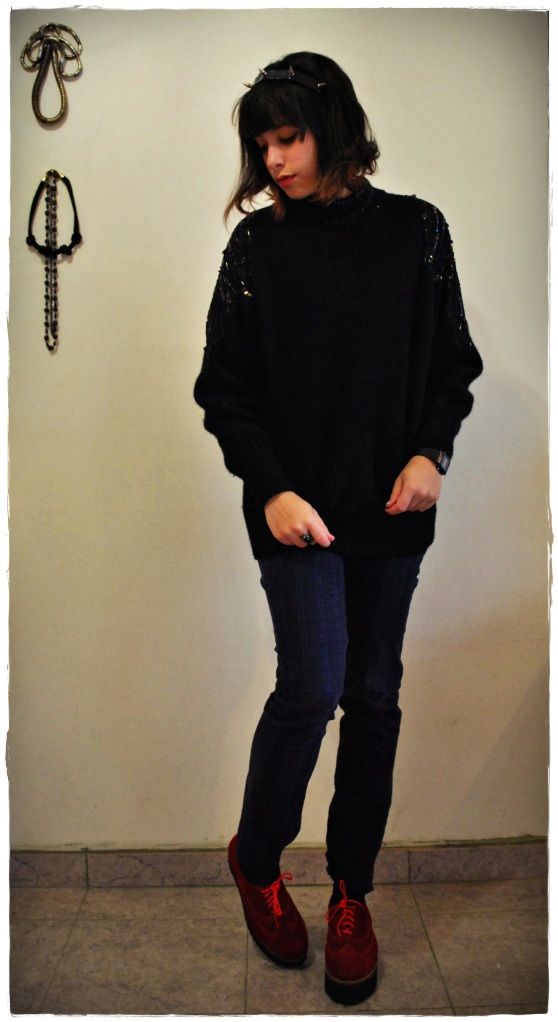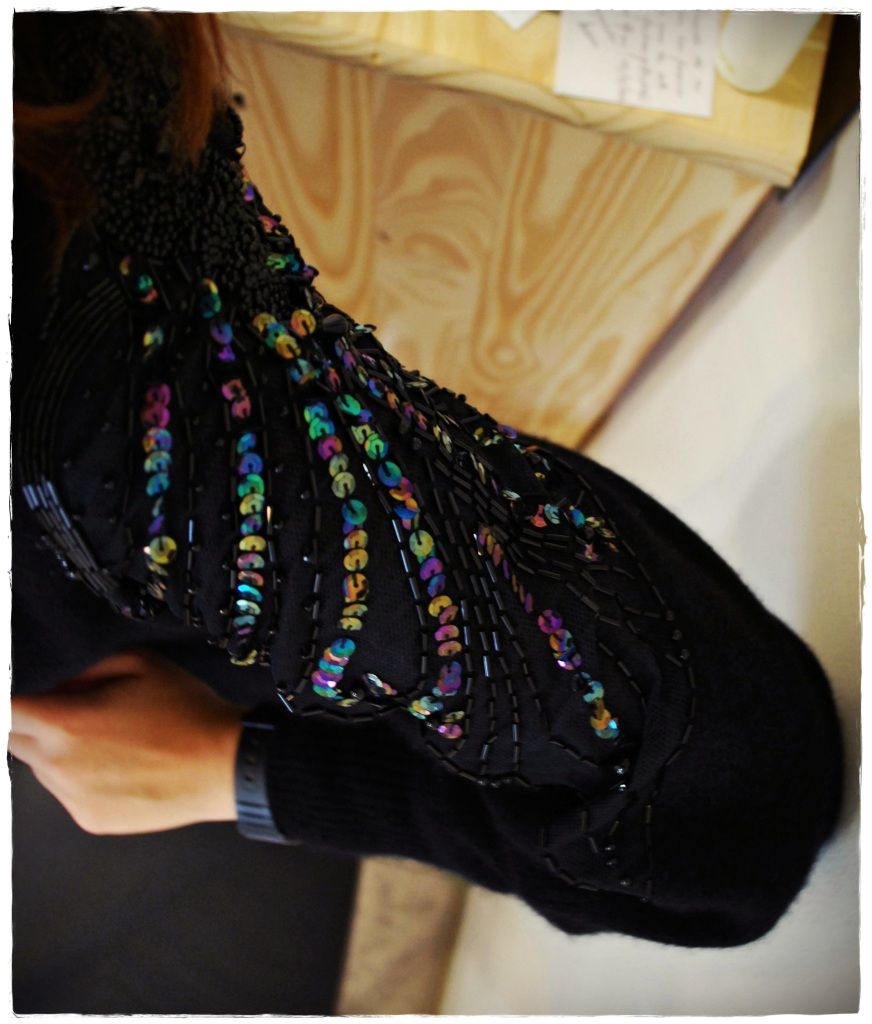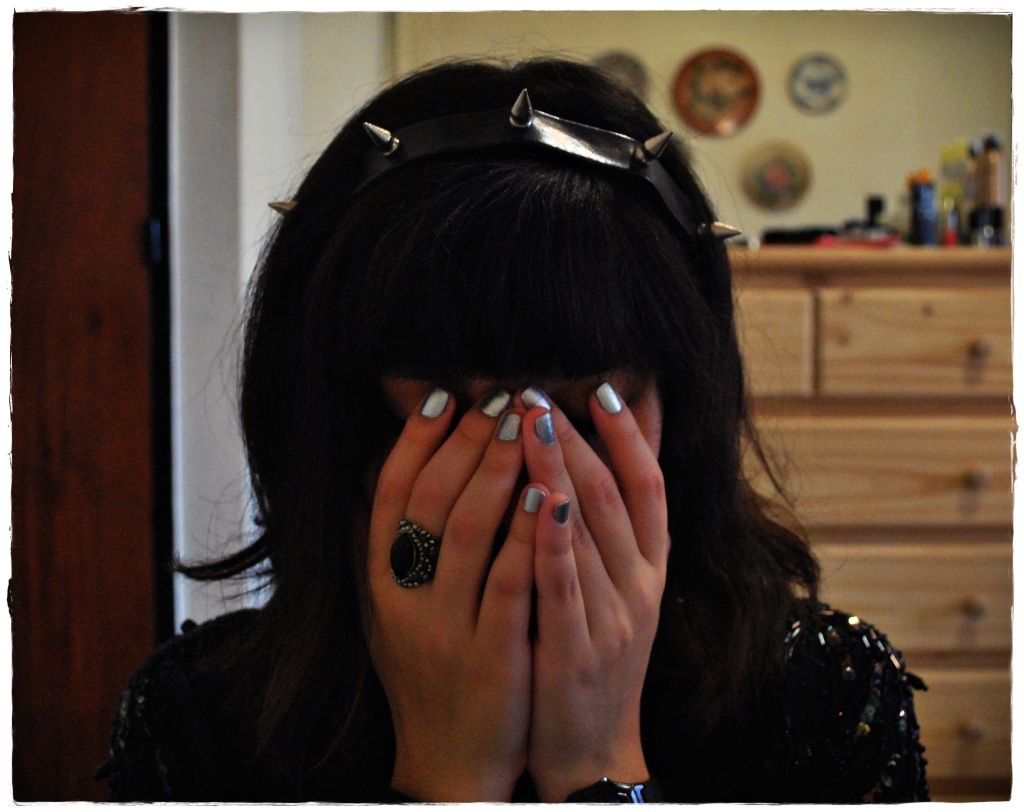 Sweater: Thrifted./ Pants: Zara TRF./ Shoes: Chaussemod. / Headwear: DIY./ Nail Polish: F21.
Como les comenté en el post anterior del día de hoy, tengo una gripe maligna. Sin embargo, me tocó salir a hacer algunas diligencias y no quería que todo el universo se enterara de que me sentía mal, por lo que arme este look bastante relajado y cómodo, pero que me quitaba un poquito la cara de enferma jaja.
Además, quería mostrar este sweater desde que empecé el blog porque me fascina. Lo conseguí en una tienda de segunda mano en Caracas y fue amor a primera vista. Parece ser un sweater negro básico, pero tiene todo el cuello bordado con canutillos y en las mangas hay una especie de malla bordada con más canutillos, mostacillas y lentejuelas tornasol que hacen un símil a las alas de una mariposa (o a una hoja, es un patrón raro pero muy lindo). Me gusta porque al combinarlo con algo simple, permite que el resto del look se vea un poco más adornado, y al combinarlo con algo más de vestir puede verse muy elegante.
Los pantalones a cuadros son de Zara. Los flatforms o creepers los compré en una tienda/fabrica cerca de mi casa, por lo que me salieron a la mitad del precio que los venden en la mayoría de las tiendas (go me!), para mi sorpresa, luego de acostumbrarme a caminar con ellos, resultaron ser bastante cómodos.
La vincha/cintillo la hice hace poco, ya que he visto en varias páginas esta tendencia de añadir spikes y elementos más "rudos" o "rocanroleros" a cualquier atuendo y me encantan esos detalles.
Antes de salir me coloqué un blazer negro simple para no morir en el trayecto.
A.
Like I said in today's earlier post, I'm sick as a dog. However, I still had to run some errands today and I didn't want the entire world to know how badly I was feeling. So I put together this look that is quite calmed and relaxed, but that made me look a little less sick haha.
I wanted to post this sweater on the blog since I started it because I adore it. I found it in a thrift store in Caracas a while ago and it was love at first sight. It looks like a simple basic black sweater but the neckline is embroidered with black beads and the sleeves also have the beaded detail along with sequins that make a pattern close to a butterfly's wing (or a leaf, it's a weird pattern but it's really pretty). I like the fact that it's kinda dressy so it helps to make any outfit look more elaborated and if you combine it with something more elegant it looks very classy.
The plaid pants are from Zara. The flatforms or creepers are from a store/factory near my house, so I got them at half the price that they usually sell them in other stores (go me!) and to my surprise, after getting used to them, they're actually really comfortable and you can walk long distances in them.
I made the headband last weekend because I've been seeing this trend for a while now in some pages, where they add spikes and kind of rock and roll elements to toughen up a look and I love it!
Before leaving my house I added a simple black blazer so I wouldn't freeze to death.
x
A.