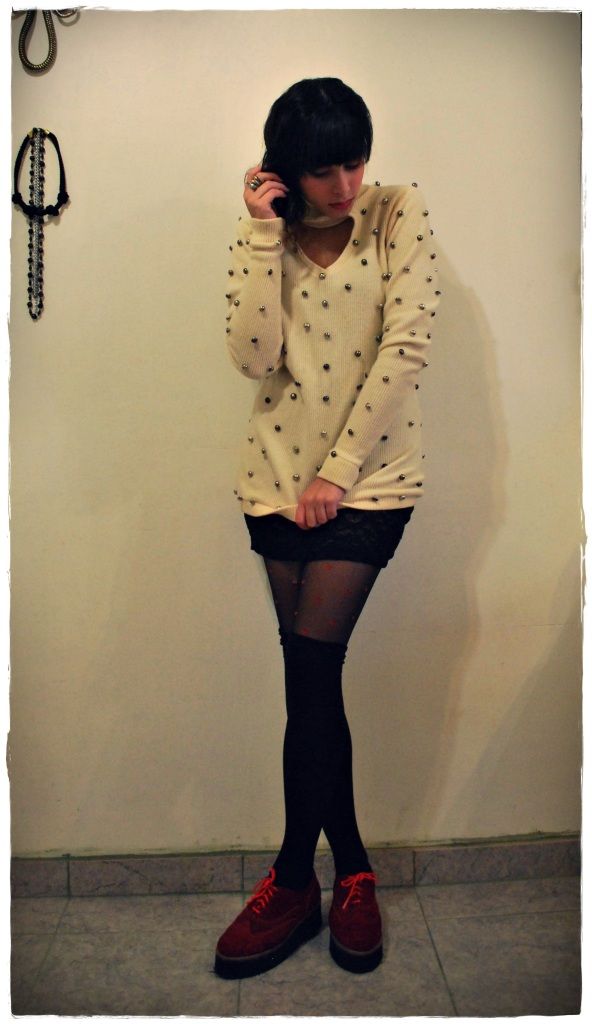 Sweater: Thrifted./ Skirt: Pull & Bear./ Tights: H&M./ Stockings: No brand./ Shoes: Chaussemod.
Este lindo sweater lo compré en una tienda de ropa de segunda mano y me gustó mucho porque se están utilizando mucho las prendas básicas adornadas con perlas o cuentas para darles un toque más sofisticado (una buena idea para un DIY si no consiguen uno que ya las tenga bordadas). En la parte delantera tiene un corte en forma de corazón y es de lana gruesa, por lo que abriga bastante.
La falda es de Pull & Bear y es un buen básico para combinar con cualquier conjunto, al ser de encaje ayuda a que cualquier atuendo se vea un poco más elegante (si eso es lo que deseamos). La combiné con las medias de corazones de H&M y agregué las medias negras arriba para cubrirme del frío y no enseñar tanta pierna. Por último, me puse mis zapatos rojos de plataforma (¡síiii, cambié de zapatos!) y un par de anillos hermosos de Un paseo por las Nubes.
I got this lovely sweater in a thrift store and I really liked it because it's really trendy lately to wear basics embellished with pearls or beads to make them look different and more sophisticated (this is a good idea for a DIY project if you don't find a sweater that already has the beads). The sweater also has a cut-out shape of a heart in the front and the fabric is thick wool, which makes it really toasty and warm.
The skirt is from Pull & Bear and it's a great basic to match with any outfit, since it's made out of lace it helps to dress up another piece of clothing (if that's what you're looking for). I paired with heart tights from H&M and added the black stockings to cover up a little and not show so much leg. Last but not least, I wore my red flatforms/creepers (yaaay, I exchanged shoes!) and a couple of lovely rings from
Un paseo por las Nubes.
x
A.