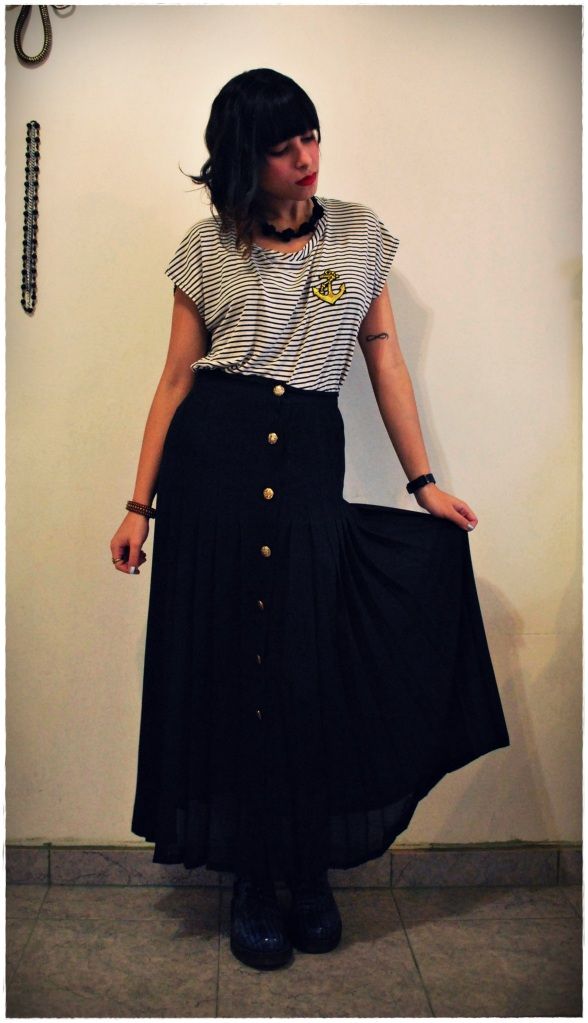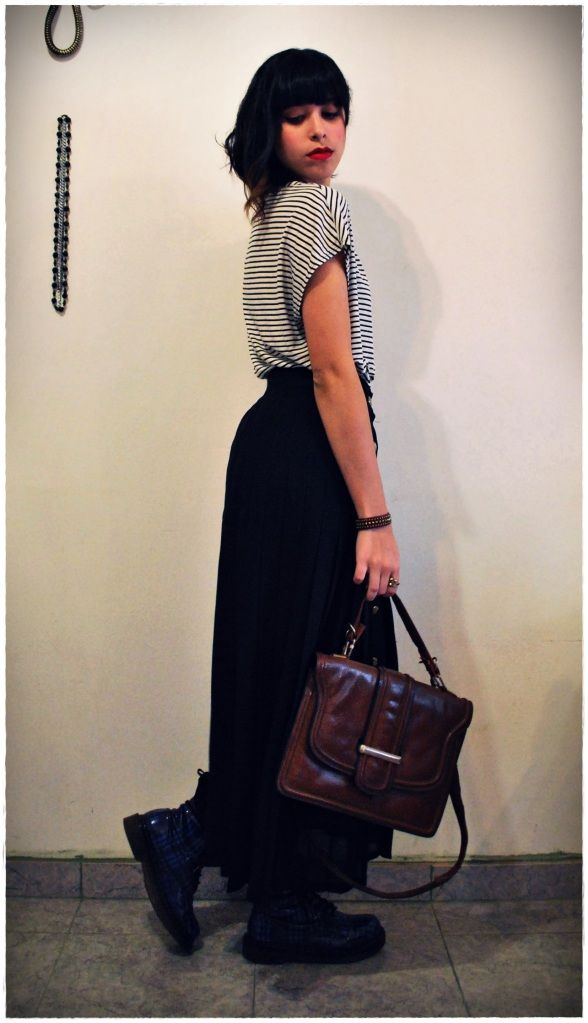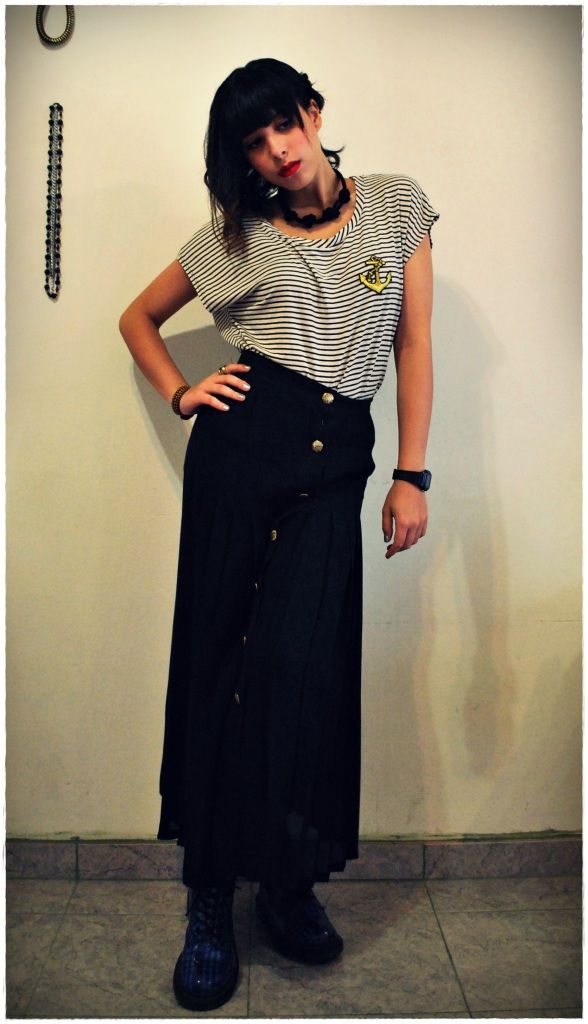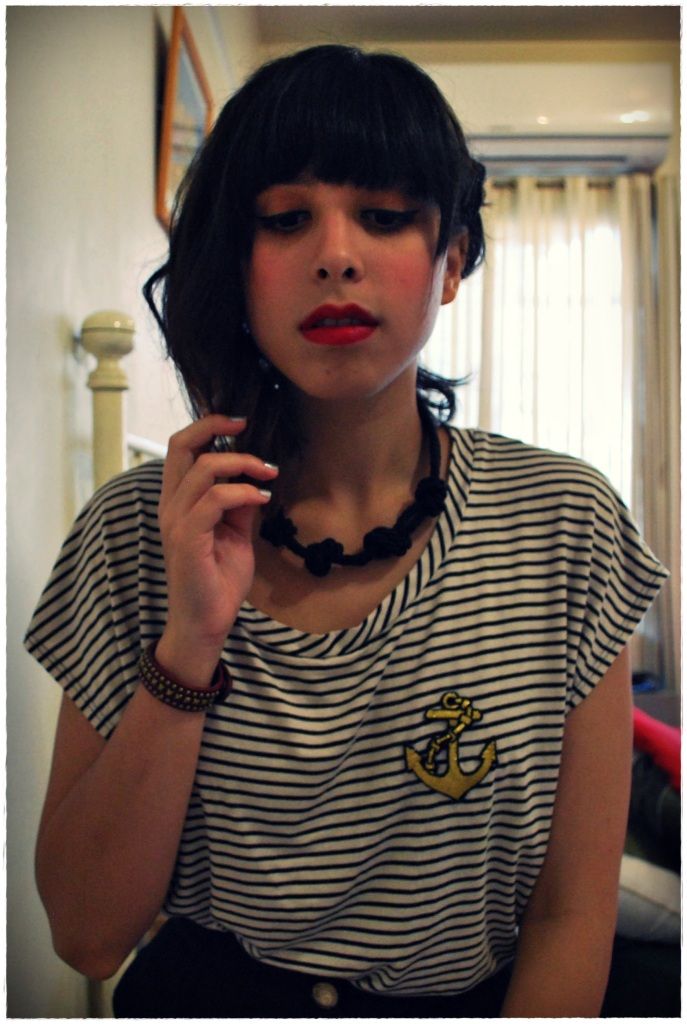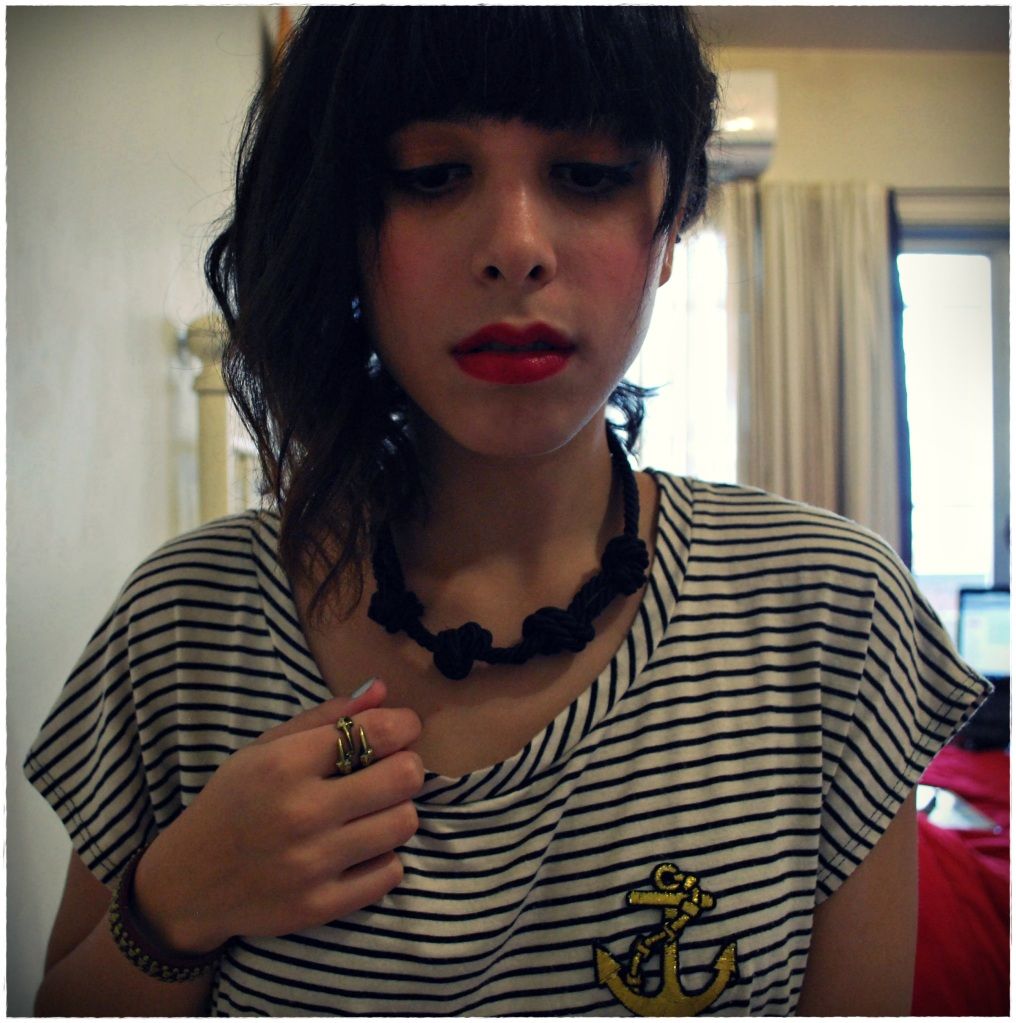 Skirt: Thrifted./ Shirt: Forever 21./ Boots: Dr. Martens./ Necklace & Bag: Thrifted.
Originalmente cuando empecé a crear mentalmente este post (sip, siempre hago eso jaja) iba a comentarles que el clima había mejorado considerablemente esta semana. Pero realmente ahora en la noche el frío volvió con todo, además ha sido una locura porque durante el día hizo mucho calor (lo cual explica lo poco abrigado de este outfit), así que en la noche todos estábamos sufriendo un poco.
Desde hace un tiempo me obsesioné con las maxi faldas, por lo que mi misión se convirtió en cazarlas en las tiendas de segunda (y básicamente cualquier tienda donde pudiese conseguirlas a buen precio). Al principio me costó un poco animarme a usarlas, ya que soy bajita y pensaba que me iba a ver rara, pero siempre hay que probar cosas nuevas y me di cuenta de que uno no debe dejar que ese tipo de detalles lo acomplejen: si les gusta algo, pruébenselo. Si se les ve bien, úsenlo. No le hagan caso a temas de tamaños, alturas, etc.
Esta falda la compré en una tienda de ropa usada en Buenos Aires y me enamoro desde el instante en que la vi, es bastante transparente pero la parte de arriba esta cosida de una manera que no se nota mucho (igual yo me la pongo con unos leggings ¾ de pierna por si acaso). La camisa/remera es de F21 y como toda prenda rayada, me encanta. Además, les confieso que la compré porque tenía el bordado del ancla (que son otra de mis obsesiones absurdas – me encanta la onda marinera -).
Quise mantenerlo bien simple, con pocos accesorios y para levantar un poco el tema del color pinté mis labios de un rojo bien llamativo. Espero les guste.
When I started writing this post in my mind (I always do that, haha) I was going to tell you that the weather had improved a lot this week, nevertheless tonight got REALLY cold again and it was insane because during the day the weather was actually rather warm (hence the outfit) and then we were all freezing by nighttime.
A while ago I became obsessed with maxi skirts so I made it my mission to hunt them on thrift stores (and pretty much every store where I could find them at low prices). At first I wasn't too keen on wearing them because I'm short and I was afraid they'd make my body look weird, but since you always have to try new stuff I ended up doing it and loving them. So don't let anybody tell you that you can't wear something because of your body type or shape. If you like something try it on and if it looks good, wear it.
I found this skirt in a thrift store in Buenos Aires and I fell in love with it from the moment I saw it. It's very see-through but the top part is sewn in a way that it doesn't show (I still wear it with mid-leg leggings). The shirt is from F21 and like everything that's stripy I love it. And I also have to confess that I got it because of the embroidered anchor (they are another one of my crazy obsessions and I love the sailor/nautical style).
I wanted to keep it really simple with the accessories and painted my lips on a bold red to add a pop of color. Hope you like it.
x
A.