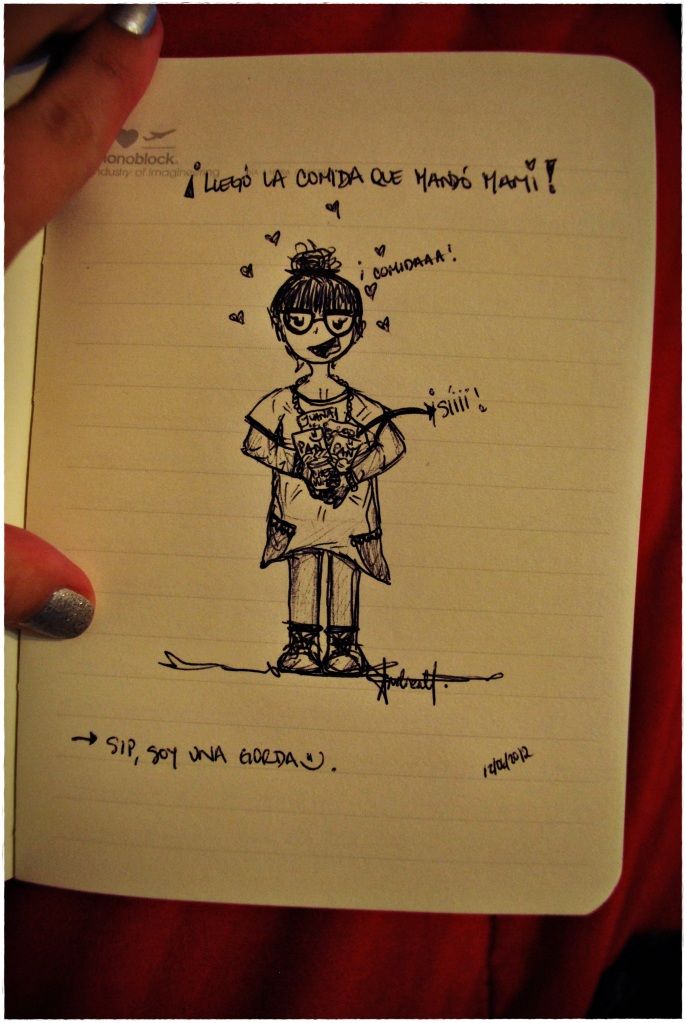 It reads: Mommy's food's here!
-Fooood!-
-Yaaay!-
- Yup, I'm a fatass.
Hace un par de semanas un compañero de trabajo de mi madre vino para Buenos Aires para hacer un curso ¿Y qué significa esto?: Mami le manda comida a Andreita y eso la hace MUY feliz :D Vivir en un país nuevo siempre es complicado, pero no saben cuánto ayuda tener esa comida (o ingredientes para prepararla) que no se consigue en el lugar al que te mudaste – los Venezolanos lo entenderán 100%, tenemos una dieta algo particular -.
El día que pase buscando mi paquetito del amor hice este dibujo.
No sé si hacer de esto una nueva sección del blog ¿Qué opinan?
Dato curioso: La ilustración de Mrs. Pepper del banner del blog también es uno de mis dibujos.
A couple of weeks ago a guy from my mom's job came to Buenos Aires to participate in a course dictated by the company. And what did that mean? Mommy sent food for little Andie, which made her extremely happy :D Living in a new country is always hard but you have no idea of how much it helps to have that food (or the ingredients to prepare it) that you can't find in the place that you've moved to – Venezuelans will get it, we have a particular diet –.
I drew this thingy the day I got my lovely package of joy.
I'm considering making this a new section on the blog. What do you think?
Fun Fact: I also made Mrs. Pepper's illustration from my blog's banner.
x
A.