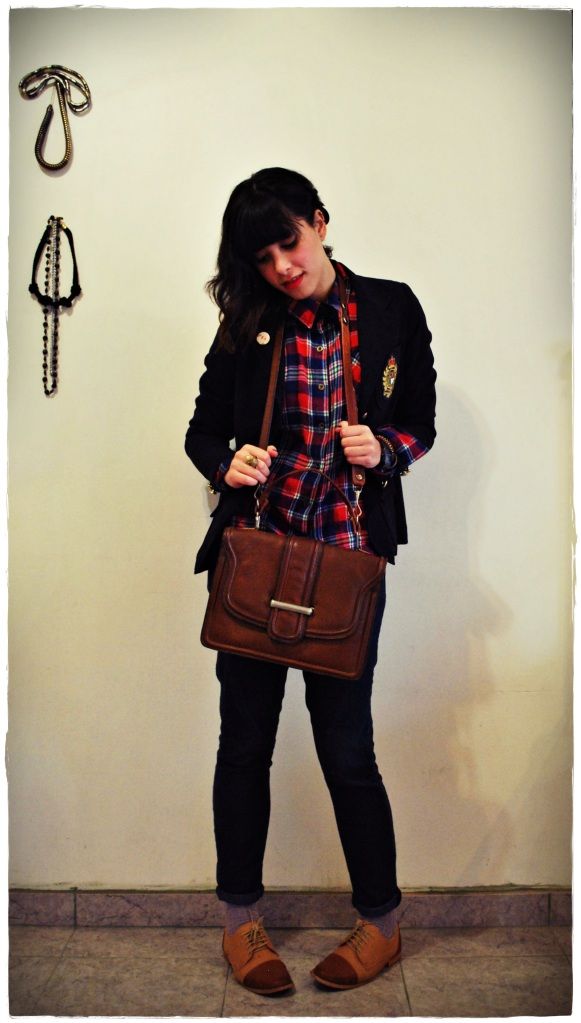 The weird thing in my nose is not a booger, I promise. It's just my septum. You can find the DIY for the velvet bow here.// La cosita rara en mi nariz es la pieza de mi septum, no teman. El tutorial para hacer el lacito de terciopelo es este.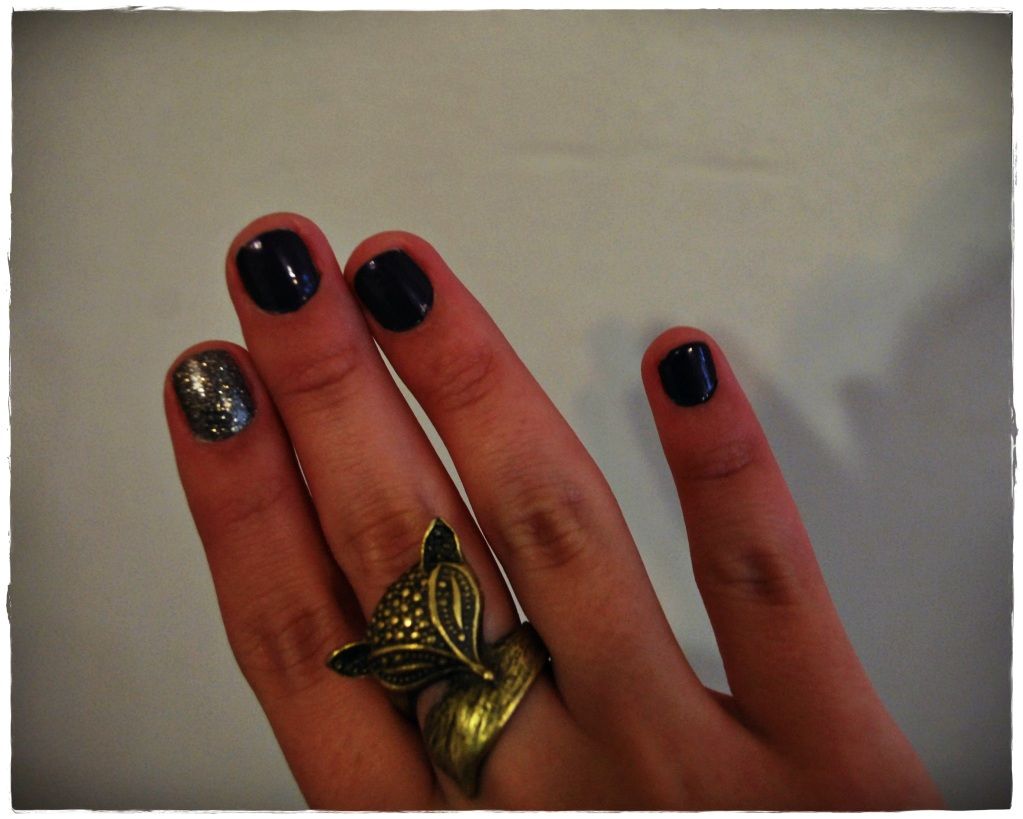 Fantastic Mr. Fox :)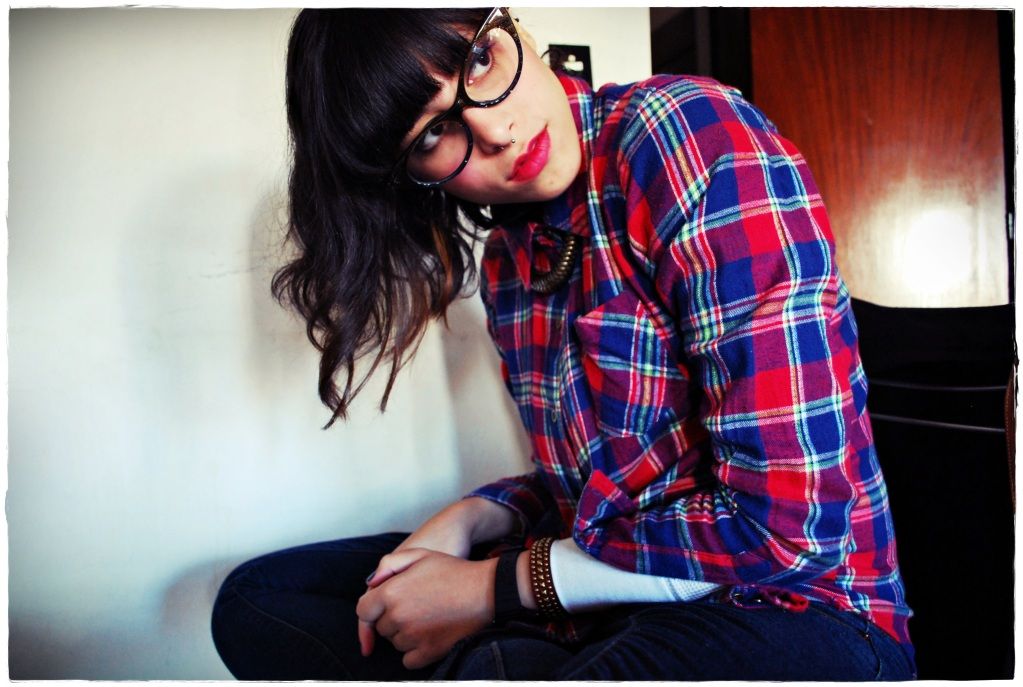 This last shot is to show you my new specs. They're vintage cat eyes and I love them!/ En esta última foto pueden ver mis lentes vintage nuevos, los amo!
Shirt & Jeans: Forever 21./ Shoes: Cooperative in UO./ Blazer: Traki./ Bag: Thrifted./ Glasses: Ray-Ban.
Esta semana me he sentido algo corta de inspiración. No sé si será por el frío que me hace querer envolverme en una sábana/manta gigante y salir así a la calle o qué, pero no tenía ganas de pensar en combinaciones nuevas para ponerme, ni arreglarme mucho. Creo que esto nos pasa a todas de vez en cuando. Además, de alguna manera sentía que todos los conjuntos que publicara en el blog debían ser súper diferentes u originales. Algo que no se ve en la calle todos los días. Sin embargo luego pensé, muchas de nosotras – me atrevería a decir que la mayoría – no nos vestimos con looks de fashion blogger todos los días. La idea es ponerle onda a la ropa que usamos normalmente para vernos bien y así resaltar entre los demás que posiblemente estén vistiendo cosas similares.
Cuando estoy en estos días de flojera a la hora de vestirme siempre recurro a sweaters grandes o camisas de cuadros. Nunca me fallan. Además, con este frío son las únicas prendas que permiten ponerme muchas capas de ropa (uso mínimo 2 ó 3 camisas una sobre la otra cada día) sin parecer una hallaquita.
Mezclando básicos terminé con este look un poco preppy/geeky o colegial, pero me gusto, así que les dejo algunas fotos. La camisa a cuadros la pueden ver en otra combinación aquí. Todo bien sencillo, pero cuidando los detalles.
¿Ustedes qué hacen en esos días en los que no quieren ni vestirse?
I haven't been very inspired this week. I don't know if it's because of the cold weather than makes me want to wrap myself inside a blanket and leave my house just like that. I just didn't want to think on what to wear or how to wear it. I think we've all been through this at some point. Besides, I kind of felt that every outfit I posted here on the blog had to be super awesome and creative. But then I realized that a lot of us – I'd even dare to say the majority of us – don't wear fashion blogger looks every single day. The idea is to spice up the clothes that you wear on a regular basis to make them look good and stand out from the people that might be wearing something similar on the street.
When I'm on these lazy days I always turn to big sweaters and plaid shirts to save my life. They never fail. Plus, they are pieces that allow me to layer a lot of clothes without looking like a giant tootsie roll (I've been wearing at least 2 or 3 t-shirts layered per day because of the cold weather).


Mixing up some basics I ended up with this look that is kind of geeky and preppy, sort of school-ish but I liked it so I'm sharing it here with you. You can see how I wore the same plaid shirt differently
here
. Everything is very simple; it's all about the details.
What do you guys do on your lazy days when you don't even want to get dressed?
I also take the opportunity to put here again the link to my
article
on LookRemix.com, if you like it share it and vote for it
J