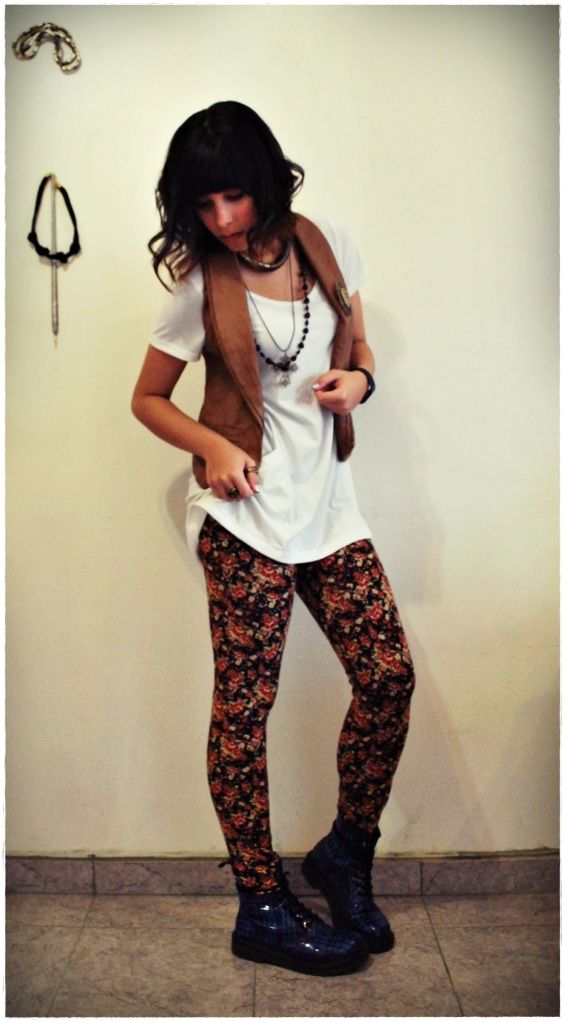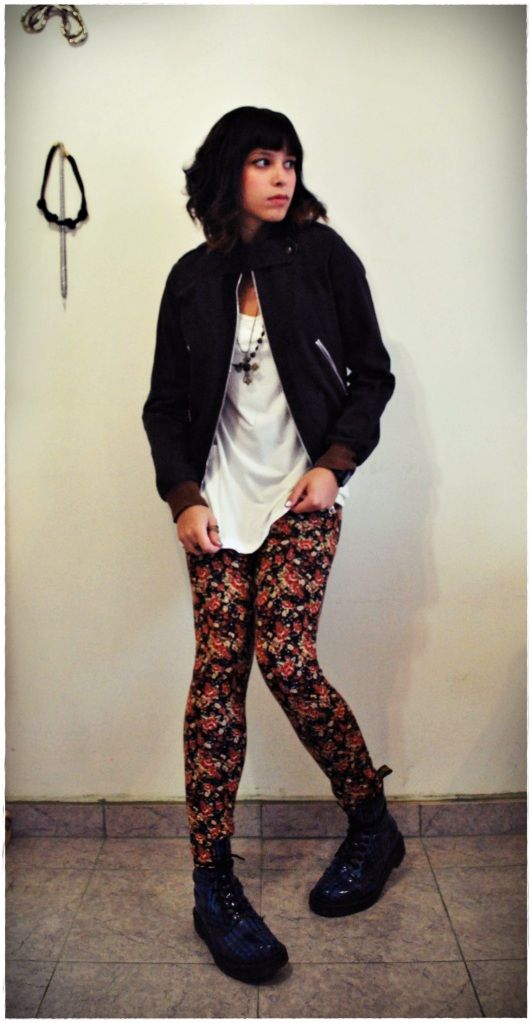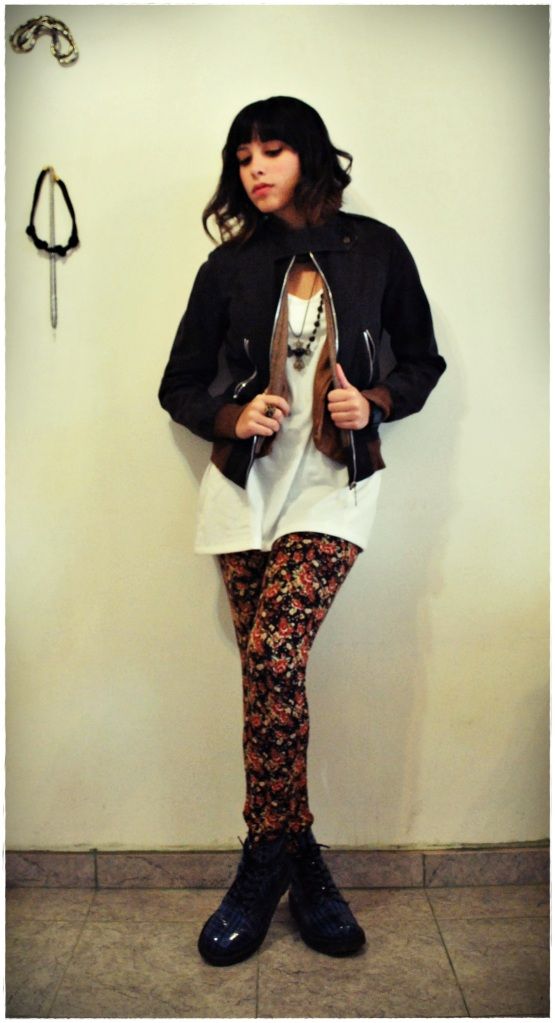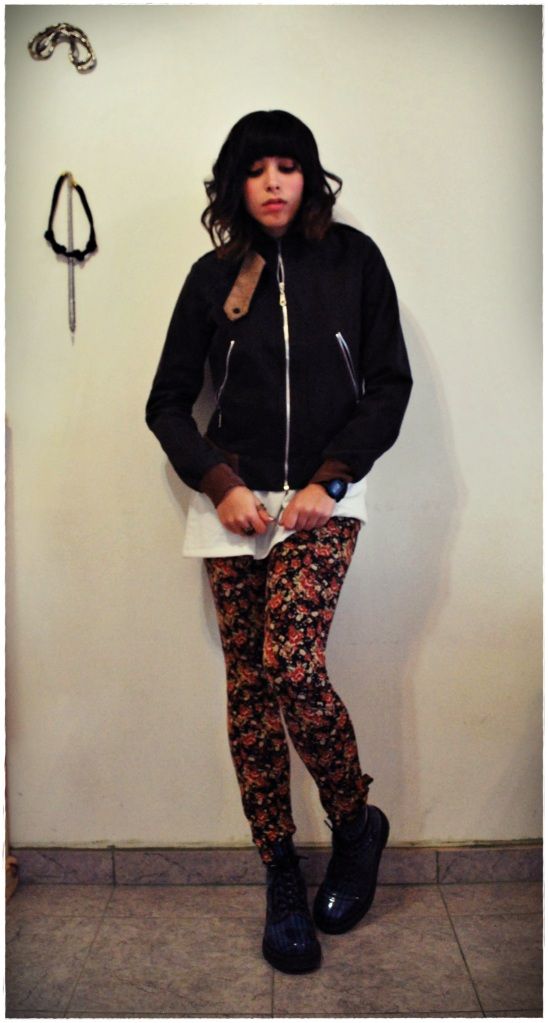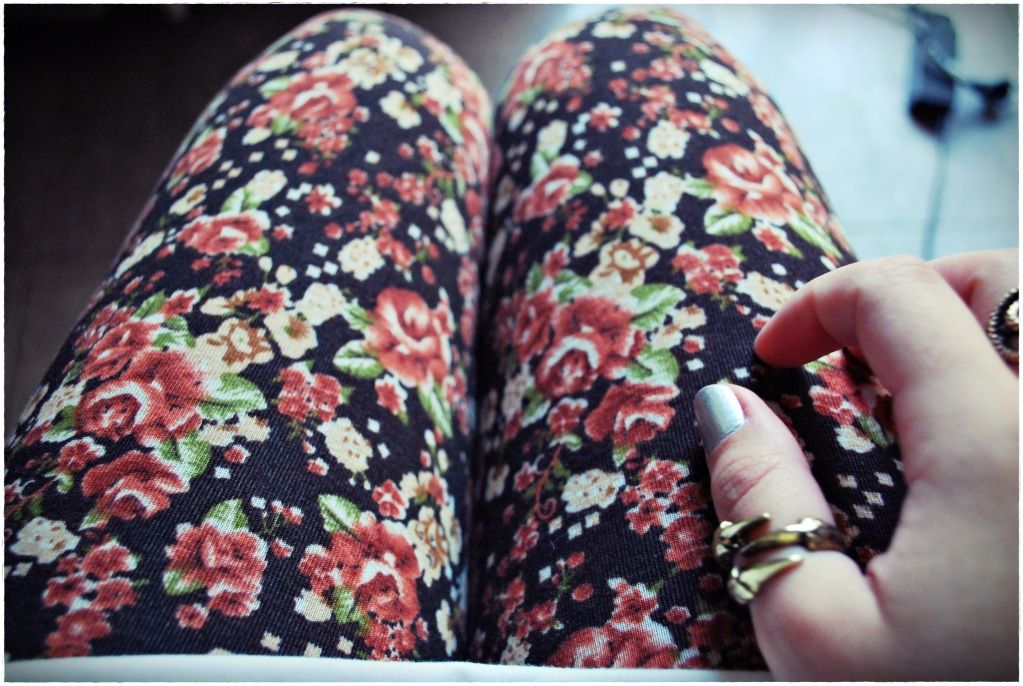 Leggings' detail
Leggings & Shirt: No brand./ Jacket: Thrifted./ Brooch: DIY./ Necklaces: Thrifted & DIY./ Rings: Alenis & Un paseo por las Nubes./ Boots: Dr. Martens.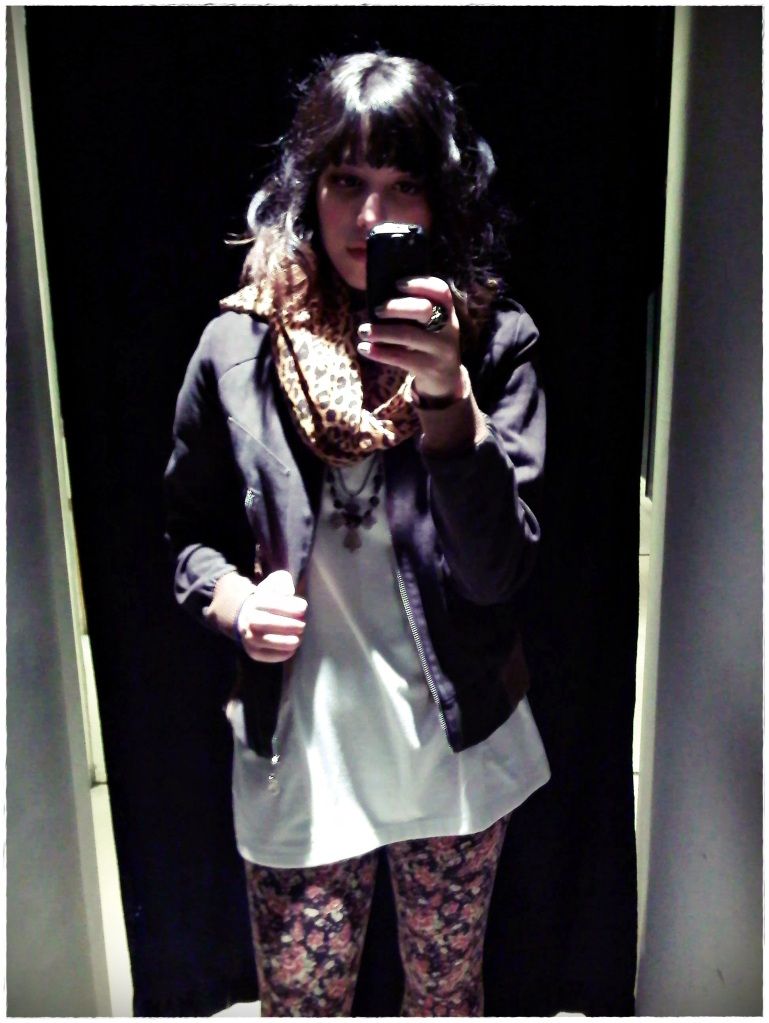 Bye!
Por suerte (y tocando madera) el clima esta semana parece que va a ser un poco más benévolo y hará un poco menos de frío. Para el día de hoy decidí utilizar estos leggings floreados que compré en una tienda de mi casa donde venden todo a partir de 20 pesos (una ganga), debajo de ellos coloqué unas medias panty para protegerme del frío (es la mejor opción para seguir utilizando leggings en esta época si éstos no son térmicos). La camisa/remera básica es de esta misma tienda, me gusta porque es de algodón grueso y además al ser un poco larga se puede utilizar con los leggings sin ningún problema de estar mostrando cosas de más.
Agregué el chaleco de cuerina que compré hace un par de veranos en un Pull & Bear de Barcelona, estaba en oferta y me costó
€
5, es buenísimo porque abriga bastante a pesar de ser una prenda pequeña. La chaqueta/campera es de una tienda de segunda mano y me encanta porque tiene un aire como a chaqueta de aviador y tiene muchos detalles cool como bolsillos, cierres y solapas en los hombros y el cuello.
Por último, combiné con las Dr. Martens para romper un poco con tanto marrón y colores neutros. Al salir me llevé otra campera beige que era de mi mamá, pero no hizo falta colocármela.
Que tengan una feliz semana
J
Luckily this week the weather seems to have improved a bit and it's not that cold anymore. Today I decided to wear these floral leggings that I got at a store near my house where they sell everything from 20 pesos on (about $ 4,50 or so), adding underneath them a pair of tights (it's the best way to wear non-thermal leggings on this season). The t-shirt is also from the same store and it's nice to pair with leggings because it's long enough so that you don't go around showing stuff that you shouldn't.
I added a faux leather vest that I got a couple of summers ago in Pull & Bear in Barcelona. It was on sale so it costed €5. It's awesome because it's actually pretty warm. The jacket is from a thrift store and I love it because it has an air to what I call an aviator jacket, it's really cool and has so many details such as zippers, pockets and lapels on the shoulders and neckline.
I wore my Dr. Martens boots to break a little with the whole brown/neutral tones palette. I additionally took another jacket with me (a beige one that belonged to my mom) but I didn't need to wear it.
x
A.