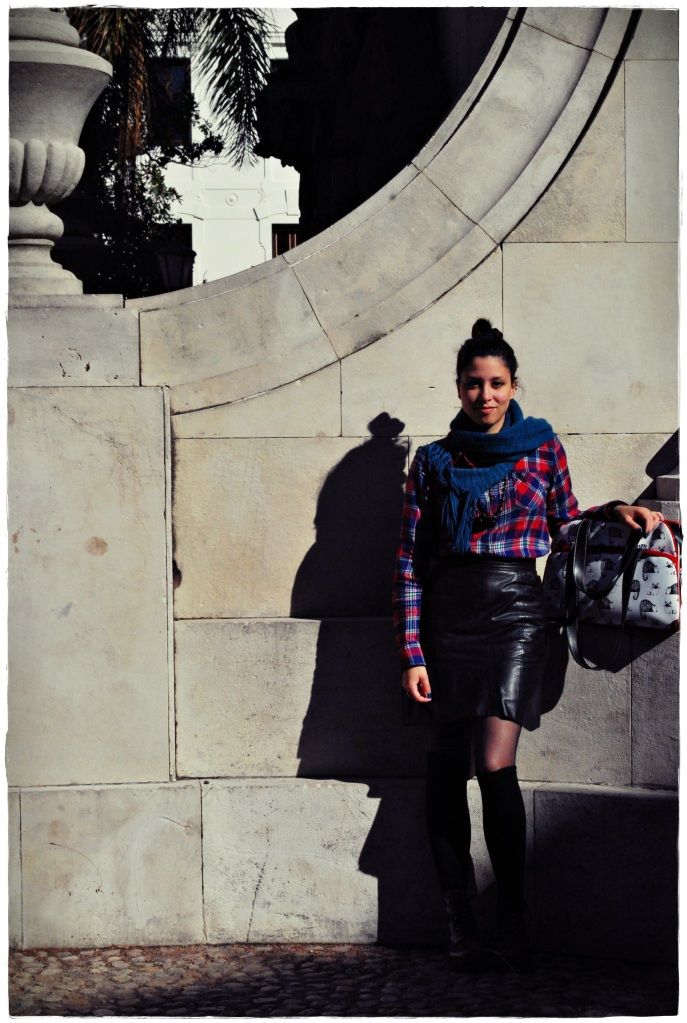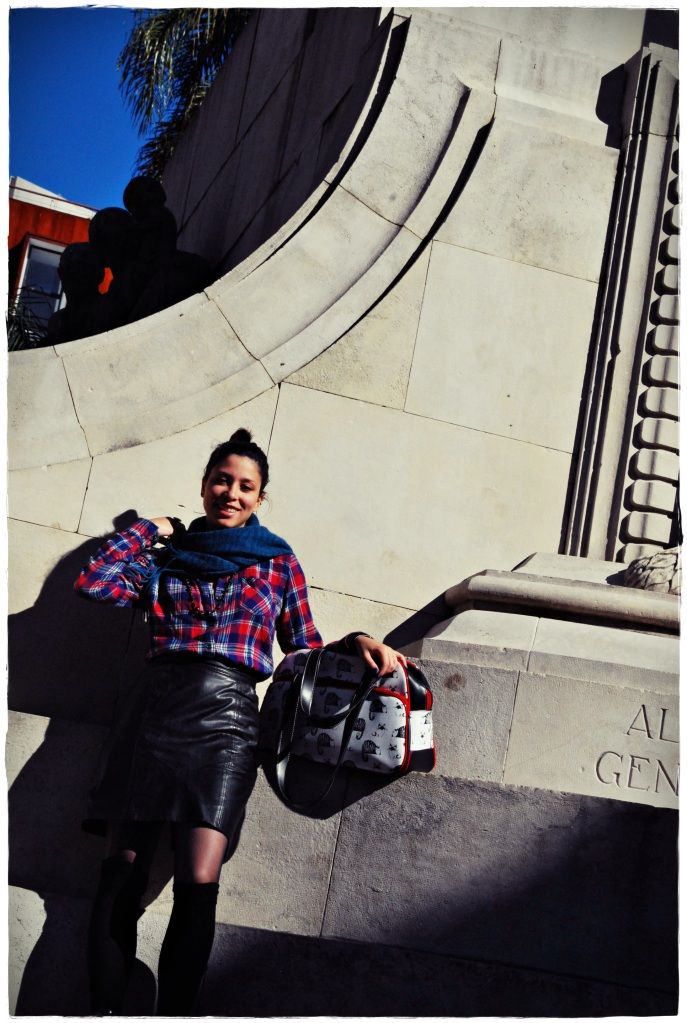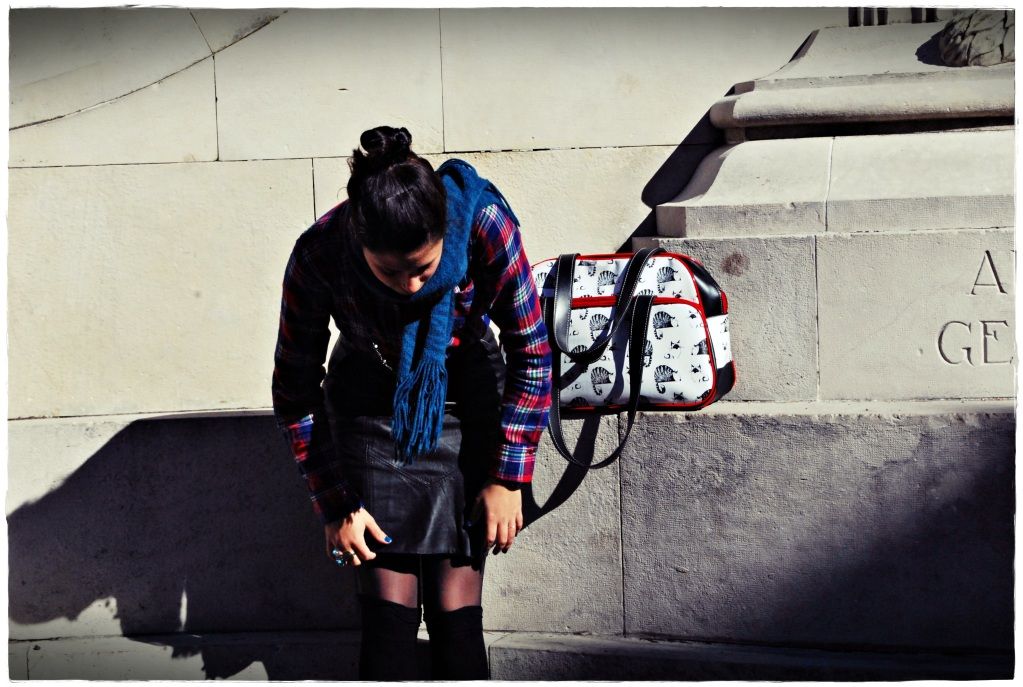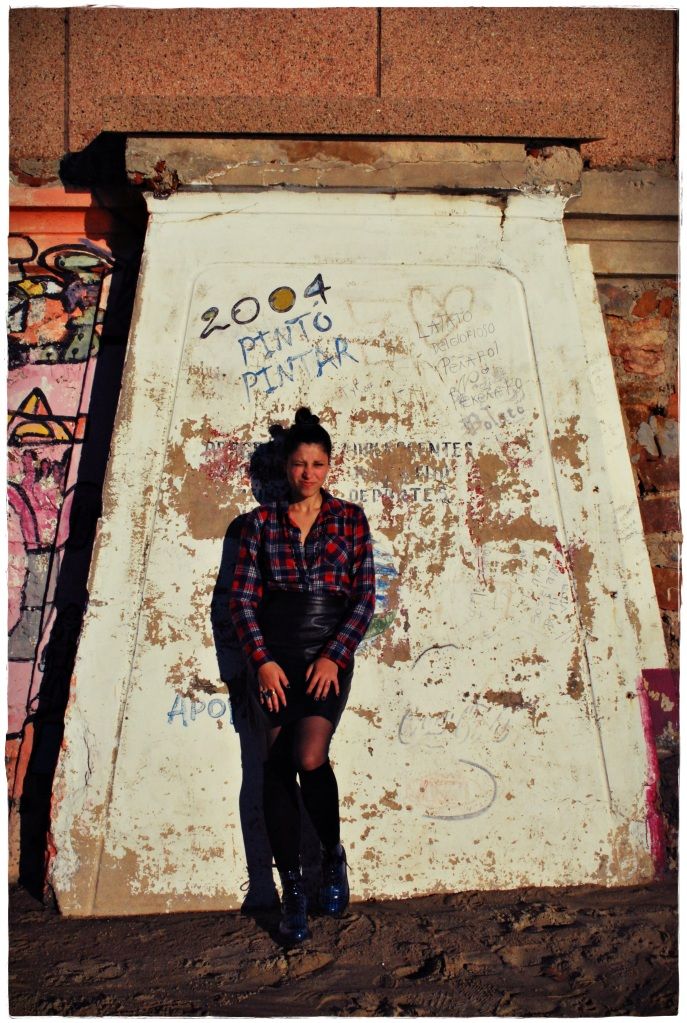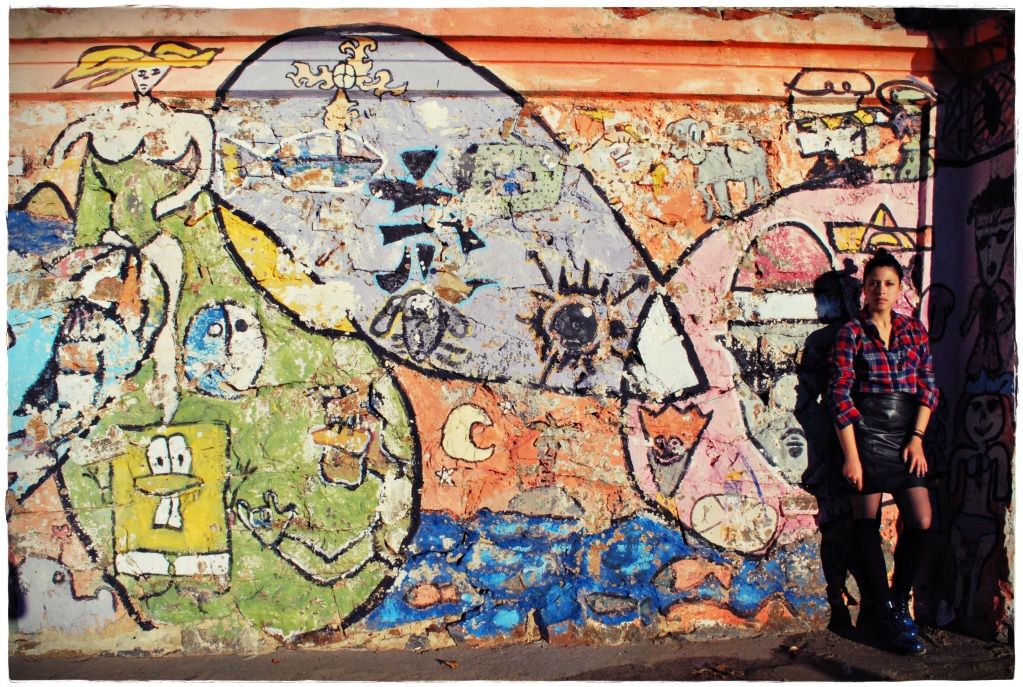 There's some awesome street art in Montevideo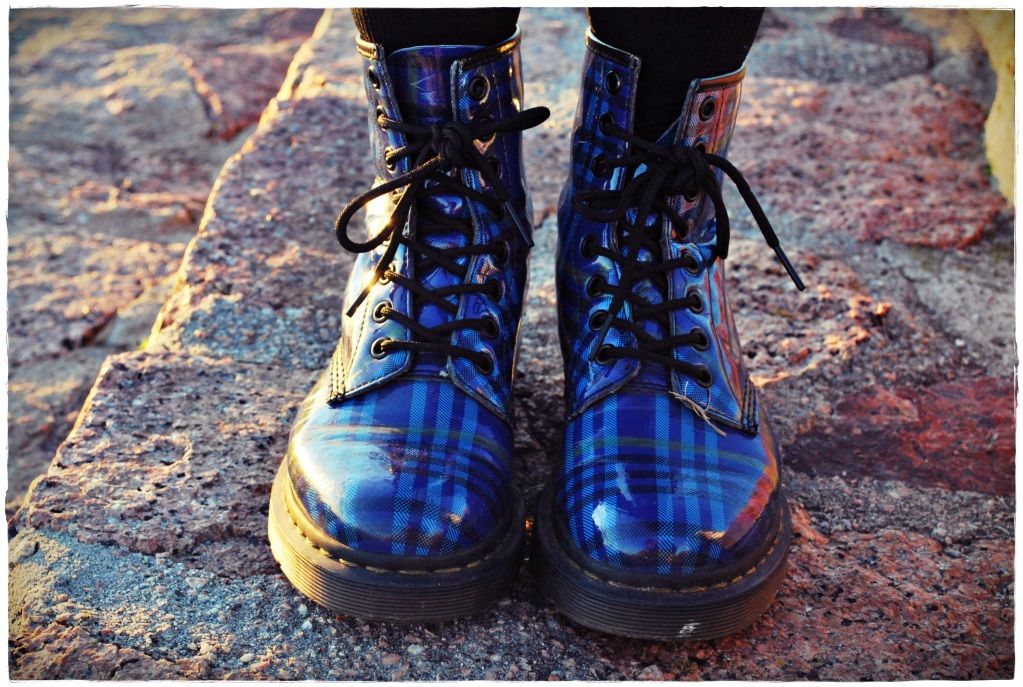 Flannel Shirt & tights: Forever 21. Skirt was my mom's. Boots: Dr. Martens. Accessories: Local markets from Caracas. Bag: Kiev.

Click to enlarge photos.
Para esta primera entrada "oficial" decidí utilizar unas fotos de un viaje que hice recientemente a Montevideo, Uruguay. Una pequeña ciudad que me recibió con clima amable y lindos paisajes.
A la hora de viajar todas queremos vernos fabulosas, pero sin que esto implique llevarnos 35 valijas de ropa y zapatos. Esto es difícil siempre, pero especialmente cuando nos enfrentamos a climas un poco más fríos (lo cual me pasó). En estos casos el mejor tip que puedo darles es optar por las capas. Si llevamos varias camisas/remeras básicas y algunas con patrones fáciles de combinar podemos crear distintas combinaciones con muy pocas prendas, lo mismo aplica para los bottoms. Lo más importante es que sea ropa cómoda y que de antemano sepamos como la podemos combinar entre sí para vernos bien.
Por último, lleven dos pares de zapatos con los que puedan caminar bastante y acordes al clima del lugar a donde van. De esos que todas tenemos que nunca nos defraudan ni nos sacan ampollas en los pies. Así tendremos la certeza de que podemos crear estilos diferentes y tenemos un par de zapatos de repuesto – créanme, esto es MUY importante, nunca sabes si un zapato se te va a romper, mojar con lluvia, etc. -.
Mi cara de seriedad extrema en algunas de las fotos es porque el sol me pegaba directamente en los ojos, pero les prometo que me la pasaba muy bien jaja.
¡Espero les guste el post!
*
For this "official" first entry I decided to use some pictures from a recent trip I made to Montevideo, Uruguay. A small town that received me with nice weather and lovely scenery.
When we have to travel we all want to look fabulous but without having to take 35 bags full of clothes and shoes. This is always hard, especially when you're heading somewhere with colder temperatures. In these cases the best thing to do is to go for layers. If we pack several basic shirts and some others with easy-to-match patterns we can create different outfits with a little amount of clothes, the same thing applies to bottoms. The most important thing is to wear comfortable clothes and that we know how to mix and match it to look our best.
Last but not least, take two pairs of shoes that you can walk a lot with and that are suitable for the current weather. We all have a pair of those shoes that never let us down and don't blister our feet. That way we know that we can create different looks and we'll have an extra pair of shoes in case of an emergency – trust me, this is VERY important, you never know if a shoe is gonna get wet or broken -.
My extremely serious face in some of the photos is because the sun was hitting me directly in the eye, but I was having the best of times, I promise ;)
I hope you like this post!