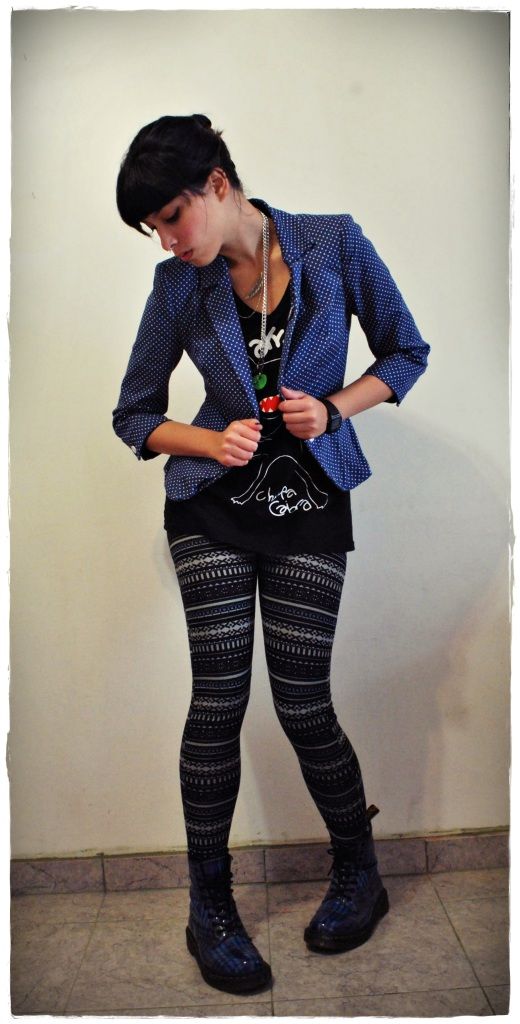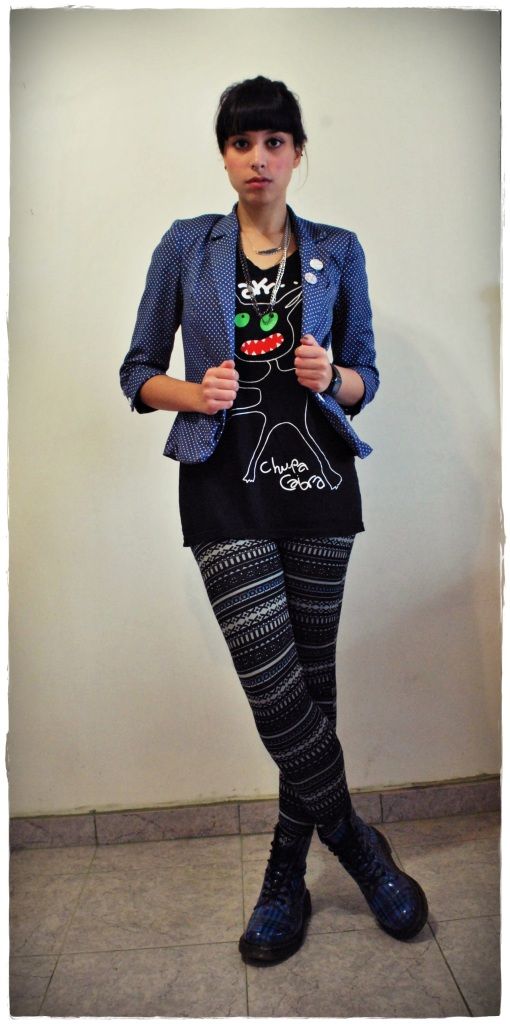 Hi!
Blazer: Blanco. / Leggings: Bohemia, BA./ T-shit: Moisha./ Boots: Dr. Martens. Necklaces: F21 & DIY. / Pins: London & Caracas.
Como esta semana no pude actualizar tanto como quería, vengo de una con dos posts de los últimos días - ¡hora de ponerse las pilas! -. Como saben, una de las últimas tendencias es mezclar estampados. En este caso yo mezclé tres bastante distintos (los lunares del blazer, el estampado geométrico del legging y el escocés de las botas), pero que al estar dentro de una misma gama de colores terminaron viéndose bastante bien juntos.
La camisa del chupa-cabras es una de mis favoritas y me la regaló un amigo hace tiempo, es de una marca Colombiana llamada Moisha. Me encanta el fit relajado que tiene y como es larguita la puedo usar con leggings en esos días que no me provoca quitarme la pijama. Al ser unicolor y negra fue lo que permitió cohesionar las distintas estampas de las otras prendas.
El blazer de puntitos es de Blanco y me enamore de él desde el momento en que lo vi hace un par de años. Los leggings son de una tienda cercana a mi casa y los compré en rebajas, así que salieron baratísimos – soy la reina de las baratijas y siempre busco conseguir ofertas -. Las botas son mis Dr. Martens que pueden haber visto en posts anteriores.
El look completo me gustó mucho, es relajado pero el blazer le da un toque más formal y los accesorios, como siempre, lo completan.
Since I didn't get to update as much as I wanted this week, here I come with two posts from the last couple of days. As you know, one of the latest trends is to mix and match patterns. In this case I mixed three very different ones (polka dots in the blazer, geo print in the leggings and plaid in the boots). Since they were in the same color pallet they turned out to be great together.
The "chupa-cabras" t-shirt was a gift from a friend of mine and it's one of my favorites. I love the relaxed fit and since it is a little long I can wear it with leggings on those days where I don't even want to take off my pajamas. The fact that it's all black worked as a cohesive element between the other prints.
The polka dot blazer is from Blanco and I fell in love with it when I saw it a couple of years ago. I got the leggings in a store near my house and they were on sale, so they were super cheap – I'm the queen of trinkets and I'm always looking for sales -. The boots are my Dr. Martens, you've probably seen them in previous posts.
I really liked the entire look, it's pretty relaxed but the blazer adds a more formal twist and the accessories – as always – finish the look.