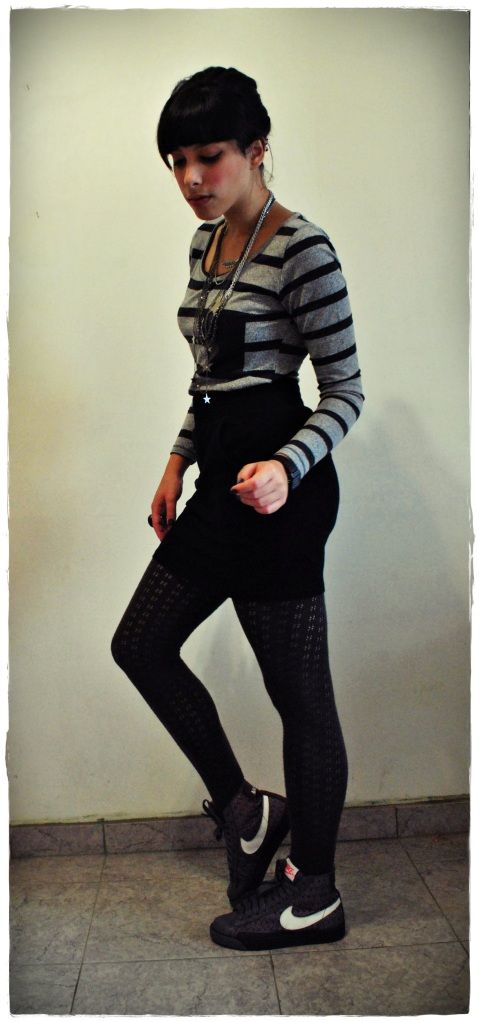 Shirt: La Luna, BA./ Skirt, Jacket & Necklaces: F21./ Stockings: Lady foot locker./ Ring: Colombian market. / Zipper Pulls: Let's Hang in UO./ Sneakers: Nike.
Esta semana ha resultado ser bastante difícil para mí a nivel personal (y bastante inesperadamente), por lo que mi humor ha estado bastante como el clima de Buenos Aires (como una nubecilla gris), es por esto que no hice todas las actualizaciones que tenía en mente. Sin embargo decidí mantener mi compromiso con el blog, que también me ayuda a distraerme.
Me encantan las camisas de rayas, me parece que son clásicas y van bien con cualquier cosa. Esta la compré hace poco y lo interesante es que tiene el detalle de un bolsillo de una especie cuerina que me gustó mucho, hace un contraste interesante en una camisa sencilla. La falda es otro de mis básicos, me salva siempre y combina con todo.
Para completar este look casi monocromático agregué las medias (que también tienen un lindo detalle), la campera con capucha (porque no quiere parar de lloviznar) y las zapatillas Nike, que amo con pasión.
This week turned out to be very hard for me on a personal level (and unexpectedly), so my mood has been a lot like the weather in Buenos Aires (rather grey and gloomy) and I haven't been able to update as much as I had in mind. However I decided to stick with my commitment to the blog, which also helps me get distracted.
I absolutely adore striped shirts, I think they're classic and look good with everything. I got this one recently and I liked the little detail of the faux-leather pocket on the front. It adds a nice contrast in a simple shirt. The skirt is another of my basics; it saves me all the time and goes with everything as well.
To finish off this almost-monochromatic look I added the stockings (that also have a lovely detail), the hooded jacket (because it won't stop drizzling) and my Nike sneakers that I love –oh-so-passionately.