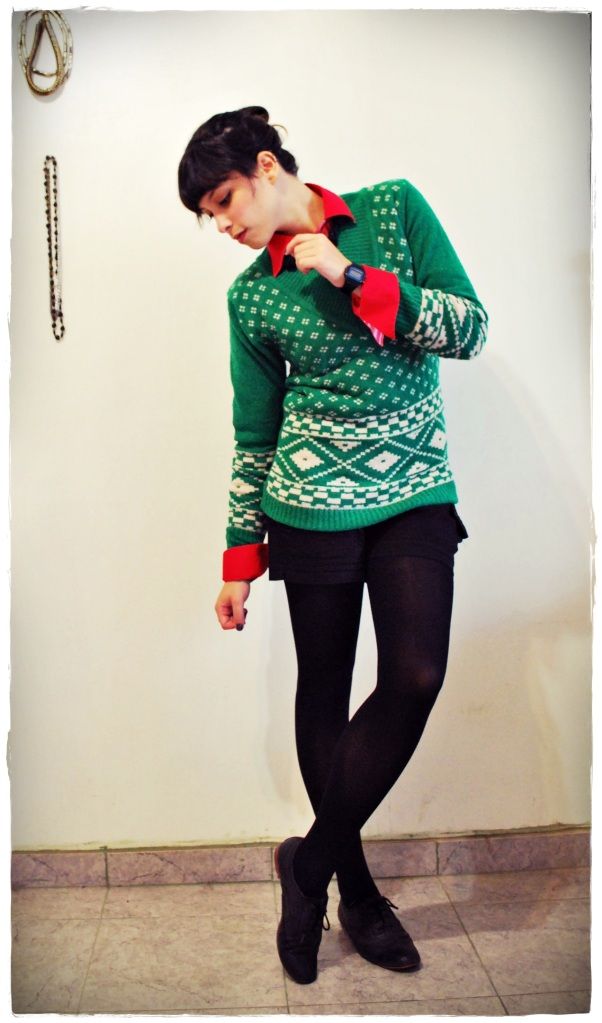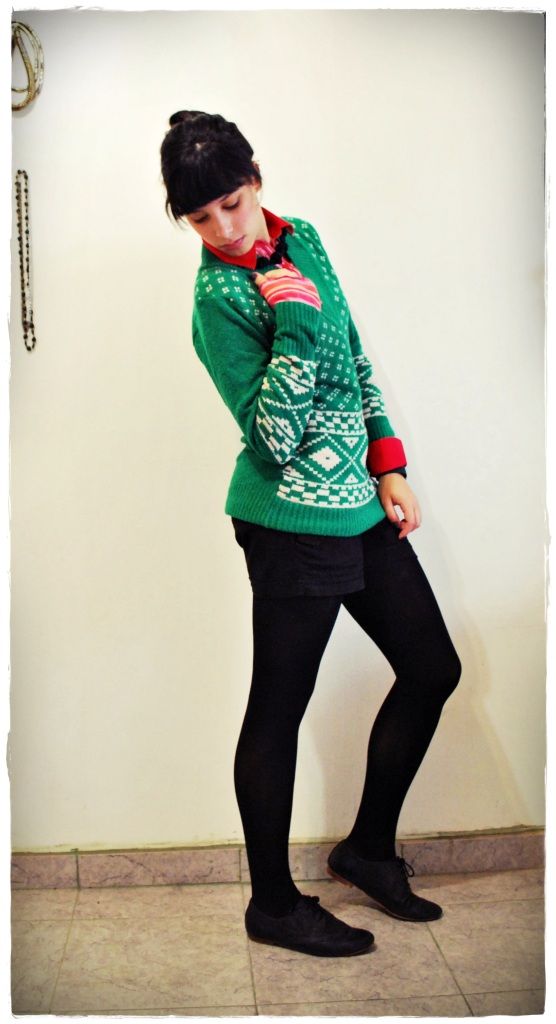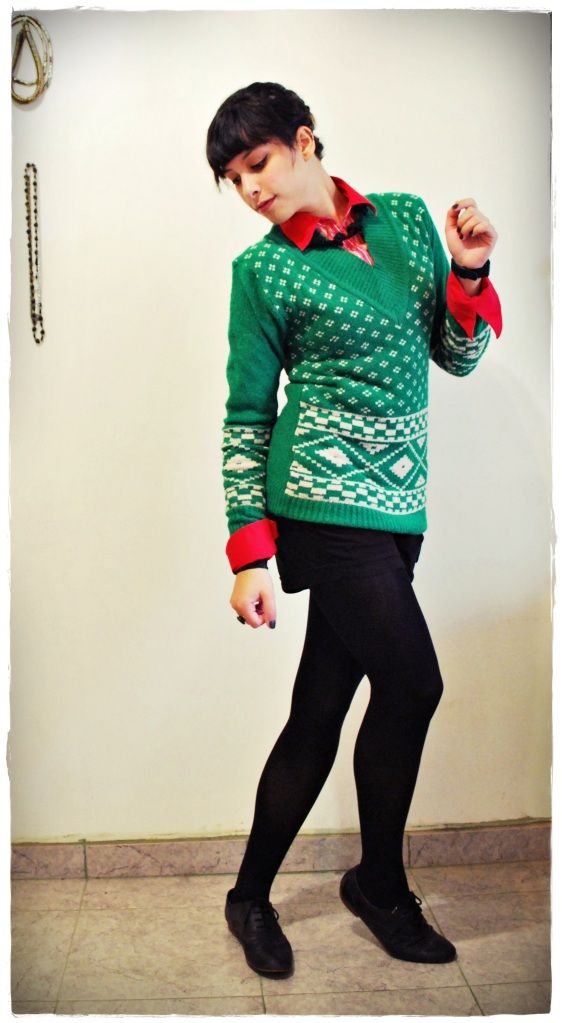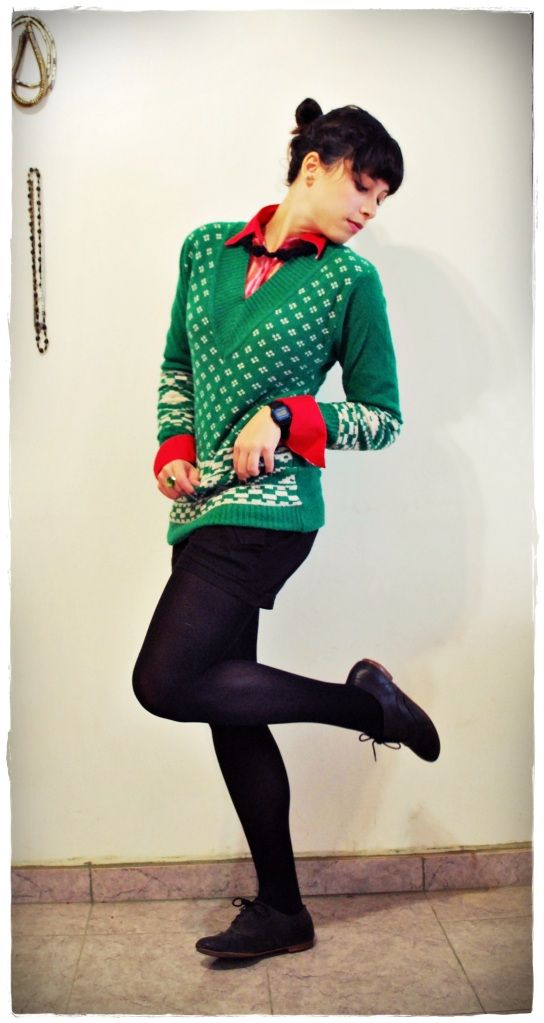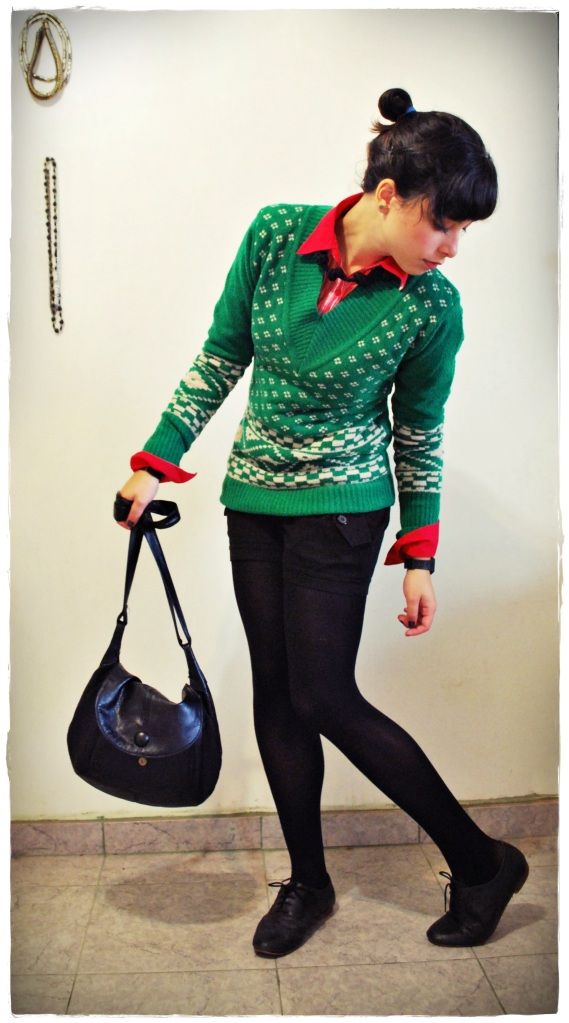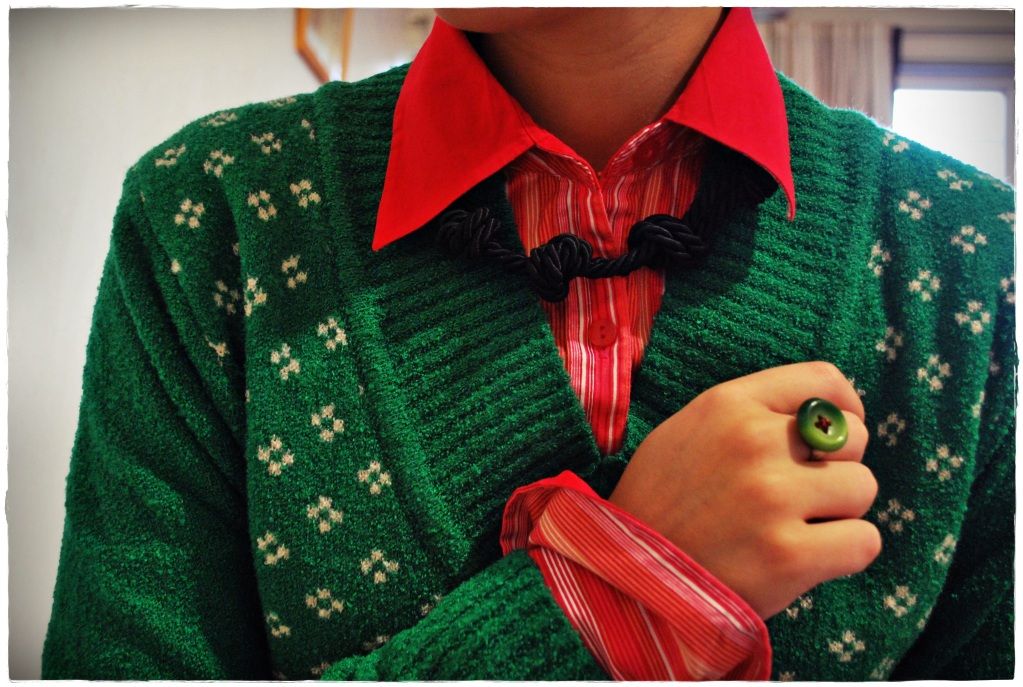 Sweater: Azzurro./ Blouse: No Brand./ Shorts: Shana./ Tights: Forever 21./ Necklace: Thrifted./ Bag: H&M./ Shoes: Steve Madden.
No sé a ustedes, pero a mí me encantan los suéteres de abuelita. Este verde además es súper calentito para estos días en los que el frío comienza a hacer de las suyas (todavía no está tan grave, pero para la gente con sangre tropical como yo…pues, siempre tenemos frío jaja). Por más obvio y tonto que suene, si quieren un buen suéter de abuelita la mejor opción (además de las tiendas de segunda mano) es ir a buscarlos en tiendas de ropa de abuelita. Así mismo. Van a conseguir mucha variedad de suéteres lindos, de buena calidad y probablemente más baratos que en otros lugares.
Los shorts los compré hace un par de veranos en Barcelona y me costaron
€
2, han sido de las mejores compras de mi vida. La camisa la compré en el mercado del cementerio en Caracas, Venezuela (donde todo es baratísimo) hace como mil años. No se nota mucho por el suéter, pero es de rayas en la gama de los rosas/naranjas y el cuello y los puños de las mangas son rojos, se ve un poco navideño con el verde del suéter, pero bah. A mí me gustó
J
Por lo demás, medias, zapatos y cartera negros para neutralizar un poco y ¡listo!
I don't know about you, but I love grandma-like sweaters. Plus this green one is super warm and cozy for these days where it's beginning to be chillier (it's not that bad yet, but for people like me who have tropical blood…well, we're always cold haha). Even if it sound too silly or obvious, if you want to find a good grandma's sweater the best option (besides from thrift stores) is to go to grandma's clothing stores. Yup, just like that. You'll find a great variety of cute sweaters with great quality and affordable prices.
I got the shorts a couple of summers ago in Barcelona and they were only €2, they've been one of the best purchases of my life. The blouse is from a Venezuelan market where everything is super cheap; I got it like a million years ago. You can't tell much because the sweater is on top of it, but the blouse has stripes that go from pink to orange and the neck and fists are red. It looks a little Christmassy with the sweater but bah, I don't care. I liked it
J
Other than that, tights, shoes and purse are black to neutralize the look and…that's it!