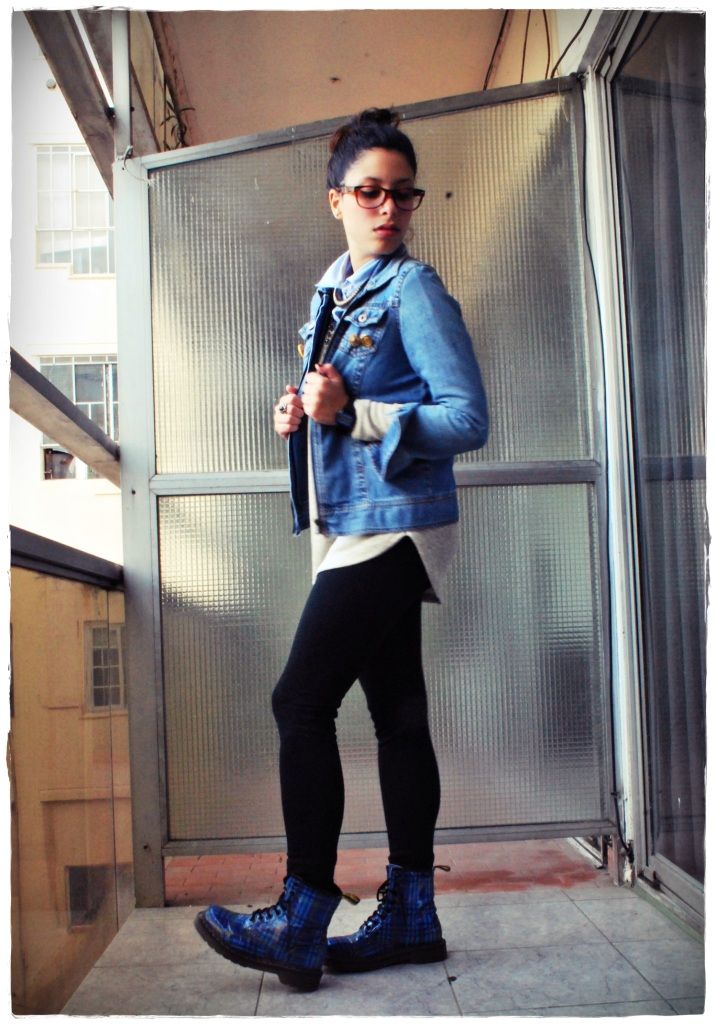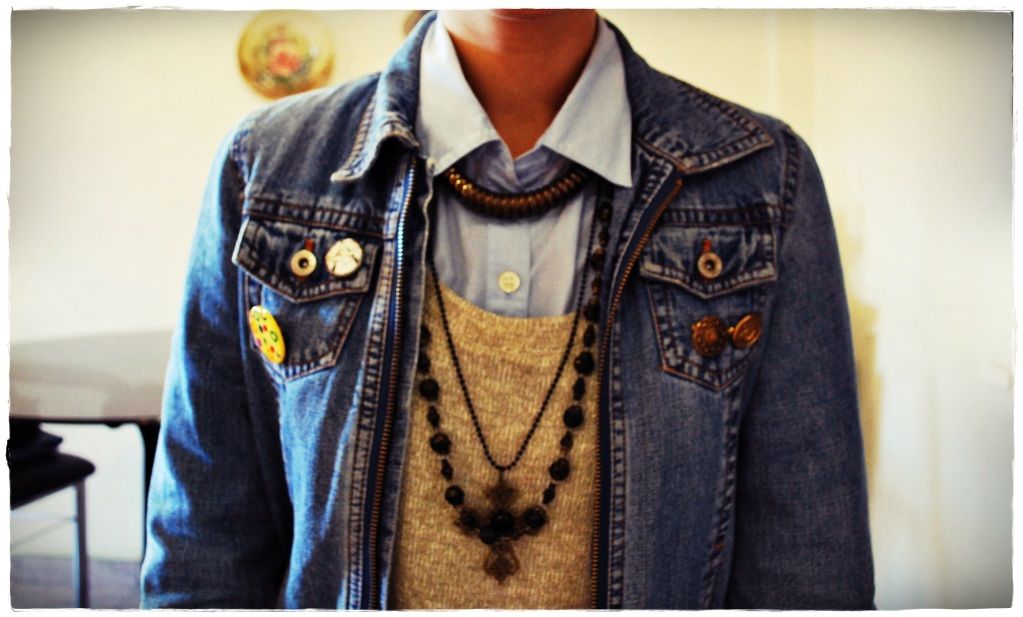 My failed attempts at showing you my sweater's fabric
No sé qué tan ortodoxo sea esto de las fotos en espejo en el mundo de los blogs, pero fue la única manera que encontré de mostrar lo que quería y que se viera bien// I don't know how orthodox are mirror shots in the whole blogging world, but it was the only way I found to show you what I wanted.
Jean Jacket: Thrifted, Blouse: Zara, Sweater: Bohemia BsAs, Leggings: No brand. Boots: Dr. Martens. Necklaces: Thrifted & DIY. Glasses: Ray-Ban.
Hace unos días compré este suetercito en una tienda pequeña cerca de mi casa, desde el momento que me lo probé se me ocurrieron muchísimas maneras en las cuales ponérmelo. Esta es una bastante relajada y casual. En las fotos no se nota, pero tiene como un hilado dorado muy fino que hace que el color se salga bastante de lo común, creo que es de esas telas místicas que salen rarísimas en las fotos (como las blusas de rayas verticales).
La blusa es de Zara Kids y la tengo como desde los 12 años (lo juro), ya me queda un poco corta, por eso siempre la combino con suéteres o prendas de tiro alto.
Estoy obsesionada con el tema de las capas. Para terminar y hacer del look algo un poco distinto agregué la chaqueta de jean (que llevaba siglos buscando y por fin encontré hace unos meses en una tienda de ropa usada en Caracas), varios collares y las Dr. Martens, tan odiadas por mucha gente (yo las AMO).
Son pocas fotos porque hoy tuve un día de Chandler y salía terrible en todas, así que termine rindiéndome.
Igual espero que les guste el post
J
A few days ago I got this cute sweater on a little store near my house. From the moment I tried it on a thousand ideas came into my mind about how I'd like to combine it with different things. This one is pretty relaxed and casual. You can't tell by the pictures, but the sweater has some kind of thin golden threading that makes the color stand out. I just think it's one of those mystic fabrics that photograph weirdly (like vertical striped blouses).
The blouse is from Zara and I've had it since I was like 12 years old (I swear). It's kind of short on me now, so I usually wear it with sweater or high-waisted bottoms.
I'm obsessed with layers lately, so to finish off the look and make it different I added the jean jacket (they always add an edge), several necklaces and the Dr. Martens (a lot of people hate mine, I LOVE them).
There aren't many photos because I had a Chandler day and looked terrible in all of them, so I gave up.
I still hope you like this post
J